Philippines keeps watch on China's leadership change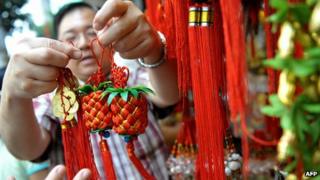 In the heart of Manila's busy Chinatown, business is booming.
Street trade goes on, as it has for centuries, but new malls and luxury apartment blocks are being created as more and more people arrive from China to trade and invest in the area.
In his office right in the heart of Chinatown, Tan Ching, the president of the Federation of Filipino-Chinese Chambers of Commerce, says this relationship can only grow - not just in Chinatown, but between the two countries as a whole.
"Trade between the Philippines and China is getting more and more. Maybe this year we'll reach $30bn (£30bn)," he says.
He is not alone in his prediction of rapid bilateral growth.
The Philippines' main trading partners are currently Japan and the United States, but Roberto de Ocampo, a former Philippine finance secretary, believes they are both likely to be overtaken by China within a decade.
This is partly because of the sheer size of China, and the fact that it is already moving away from being an export-oriented economy to a more consumer-oriented market which could mean huge opportunities for countries such as the Philippines.
"China is obviously a good market to tap for financial aid and for technology," says Mr Ocampo. "They're among the world's leaders in infrastructure, like railways, which we sorely need in the Philippines."
In return, he says, China needs the Philippines' agricultural products and can also be a source of substantial numbers of tourists.
Closeness and mistrust
There is plenty of shared history to help this expansion.
The Chinese traded with the Philippines long before the American colonists and even the Spanish colonists arrived here - in fact, long before the Philippines was even called the Philippines.
"The Chinese influence has always been here. There are ties that bind," says Mr Ocampo, who has some Chinese heritage himself.
But history can sometimes have its negative sides too.
In the past centuries there was always a slight mistrust, right back to Spanish colonial times when the Chinese communities were kept a cannon's shot away from Manila's old walled city.
Even now, though not openly discussed and perhaps has more to do with the wealth of some Chinese settlers than ethnicity, this mistrust is still there.
But by far the biggest thorn in the Philippines-China relationship - and one which is very openly discussed - is the territorial dispute over the South China Sea.
China claims the vast majority of the sea, despite overlapping claims from five other countries, one of which is the Philippines.
There are concerns that a more economically powerful China could start bullying smaller countries such as the Philippines into giving up their territorial claims.
"Unfortunately there is a perceptible drive towards military hegemony on the part of China," says Walden Bello - a congressman who's taken an active stand against Beijing on this issue.
In April, a Philippine flagship was engaged in a standoff with two Chinese vessels in the disputed Scarborough Shoal, and the row led to a war of words between the two nations, as well as anti-China protests in Manila.
It also affected trade. Beijing blocked a series of shipments of Philippine fruit, and encouraged its citizens not to visit the country.
According to Mr Bello, the situation has also "created the kind of tensions in the region that invite in outside powers like the United States."
The Philippines has indeed found solace in a mutual defence pact with the US, and discussed the issue at the highest levels in Washington.
And while the US has repeatedly argued for a collaborative diplomatic solution, China has been angered by any notion of any American involvement at all.
Neither is it happy about the number of joint Philippine-US military exercises being held in Philippine territory - nor the plans by the US to expand its military presence in the region.
Regional bonding
So the Philippines finds itself in the situation of looking increasingly to China for trade yet to the US as a military ally.
That might sound a difficult compromise to maintain, but Mr Ocampo believes there isn't huge cause for concern and that the row with China will, in all likelihood, resolve itself peacefully.
After the Scarborough Shoal standoff in April, "the politicians on either side had to make certain moves to play to their domestic audiences", he says.
"But after a relatively short period, you're now moving to another way of settling this by speaking diplomatically."
In fact, he even sees a positive side to China's increasing dominance over its regional neighbours.
Other Asian markets have realized they "somehow have to come together in closer co-operation", he explains.
"That is why you have quite a bit of emphasis on Association of South-east Asian Nations."
Whatever happens, though, there's little doubt that China's rise will have a big effect on this country - not just on its relationship with Beijing, but also its dealings with Washington and its other Asian neighbours.
No wonder then, that the changing line-up of leaders in Beijing will be monitored carefully here in the Philippines.