Greek MPs vote for budget cuts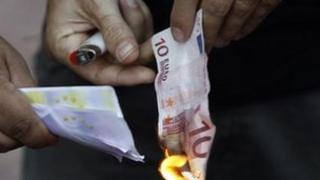 The Greek parliament has adopted a budget for 2013 that involves 9.4bn euros ($11.9bn; £7.5bn) of cuts in spending.
The vote paves the ways for Greece's international creditors to unlock a 31.5bn euro tranche of bailout funds.
The government has said that without the next instalment of its loans it will run out of cash on Friday when 5bn euros of treasury bills mature.
The budget predicted the economy would shrink 6.5% this year and 4.5% in 2013.
The Greek parliament passed the budget early on Monday morning by 167 votes to 128.
However, when eurozone finance ministers meet in Brussels on Monday they are unlikely to see the latest report on Greece's economic revival by inspectors from what is known as the troika - the European Central Bank, European Union and International Monetary Fund - according to German finance minister Wolfgang Schaeuble.
Greece needs a good report for the troika to pay out the next tranche of its bailout.
Debt problem
Michael Hughes, former chief financial officer at Baring Asset Management, told the BBC: "2013 will be the sixth year that economic growth in Greece is negative, it could be falling around 5%, having fallen by 7% in 2012 and so the debt problem is actually getting worse."
"For the European finance ministers to actually agree to release more money they need to have some degree of guarantee that this debt problem is going to be contained at some stage."
Greek Prime Minister Antonis Samaras has promised this budget will contain the last round of austerity measures the country has to endure.
Financial bailouts
Greece adopted the euro in 2001, but after several years of unsustainable borrowing the government was forced to call on its partners in the European Union and the International Monetary Fund for a bailout.
Greece secured a bailout worth 110bn euros from the EU and IMF in 2010.
A second package was agreed earlier this year involving 130bn euros in loans, in addition to a 107bn euro write-off of debts owed to the private sector.
Greece's debt is forecast to rise to 346bn euros, or 189% of GDP in 2013.
However, severe cuts in spending are hampering efforts to revive the economy and austerity is hitting the Greek people hard.
Unemployment reached a record of 25.4% in August, with 1.27 million people out of work. Young people are suffering, as about six out of 10 workers under the age of 24 are without a job.