Hornby reports loss after poor Olympic sales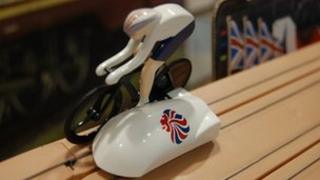 Hornby has reported a heavy half-yearly loss, with the toymaker blaming weak UK and Olympic sales, and disruption at a key Chinese supplier.
The £541,000 pre-tax loss in the six months to 30 September compares with a £959,000 profit a year ago.
The modelmaker had already warned in September that it did not expect to turn a profit for the year as a whole.
Besides producing model railways, Hornby also owns the Corgi, Scalextric and Airfix brands.
Shares in the firm fell 5% in early London trading on Friday after the announcement.
"The business is undoubtedly facing short-term challenges," said chief executive Frank Martin.
"However, we have a coherent strategy to continue to drive the business forward."
'Frustrating' disruption
Sales of its London 2012 merchandise have disappointed, causing retailers to cancel repeat orders.
Nonetheless, they helped to generate 3% revenue growth in its otherwise lacklustre UK home market. Stripping out the Olympic products, Hornby said that UK sales fell 15%.
Meanwhile, the firm said it was suffering from "very substantial disruption to supplies caused by a major rationalisation programme being implemented by one of our largest suppliers in China".
Hornby said the problem had hurt its business in Europe, where sales fell 30%.
"This was particularly frustrating as demand for our products in Europe continues to be encouraging," Hornby said.
Overall sales for the company as a whole were down 5%.
The firm suspended its interim dividend, while maintaining the full-year dividend it had already promised.
Hornby's cashflow also turned moderately negative during the period, registering a £90,000 outflow.
However, the firm pointed out that its £16m of debts do not come up for repayment until 2014 and 2015, and it was sitting on £692,000 in cash as of the end of September.