Iraq pressures Russia's Gazprom to quit Kurdistan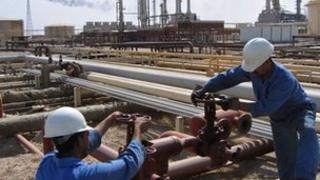 The Iraqi Government has told the Russian energy giant Gazprom to give up oil deals in Kurdistan, or face losing a lucrative oilfield contract.
Baghdad has been angered by the autonomous region of Kurdistan signing its own independent deals with multi-national oil companies.
Government spokesman Faisal Abdullah confirmed a letter had been sent to Gazprom last week warning the company.
The Badra oilfield, which Gazprom could lose, is close to the border with Iran.
Last year, Gazprom said it expected to start production at Badra, with output of 15,000 barrels per day in August 2013.
The field, which is estimated to have 100 million barrels of reserves, is operated with Turkey's TPAO, Kogas of South Korea and the Malaysian energy group Petronas.
Kurdistan's deals
The autonomous northern region of Kurdistan has been independently endeavouring to develop its oil and gas industry.
Gazprom acquired interests in two blocks with the Kurdistan Regional Government (KRG) in August, after similar moves by rivals such as Exxon and Total.
Faisal Abdullah, who is a spokesman for Iraq's deputy prime minister, Hussein Shahristani, insisted Gazprom's "contract is not legal."
"This situation will be the same for all companies who work in Iraq, because any energy contract should be approved by cabinet and the ministry of oil," he said.
US oil and gas giant ExxonMobil was given a similar ultimatum, but reacted by telling the oil ministry in Baghdad that it was looking to sell its stake in a big oilfield in south Iraq, a sign that it favours contracts in Kurdistan instead.
The Kurdish region prefers production sharing agreements with oil companies while the government in Baghdad opts to levy fees per barrel of production.