Walt Disney quarterly profits increase 14%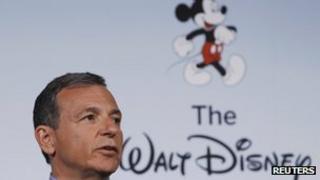 Entertainment giant Walt Disney has posted an increase in quarterly profits, boosted by higher revenues at its sports network ESPN and cruise ship operation.
The media and theme park company said that net income rose 14% to $1.2bn (£750m).
Group sales rose 3% to $10.78bn, just below analysts' forecasts.
But movie studio revenue fell, and at the pay TV and broadcast networks revenue grew a modest 2%.
Disney's shares fell 2% in after-hours trading on Wall Street following the profits release.
The company said in a statement that the theme parks division gained from better attendance at facilities in Hong Kong, California and Paris.
Last week, Disney announced that it was buying Lucasfilm, the company behind the Star Wars films, from its chairman and founder George Lucas for $4.05bn (£2.5bn).
Disney chairman and chief executive Robert Iger said on Thursday: "the addition of Lucasfilm will further fuel Disney's creative engine across our company".
Morningstar analyst Michael Corty said Disney had delivered "another solid quarter" particularly with its cable networks business, though revenue was below what some analysts expected.
"Disney has so many good things going for it that any weakness in the stock would be a buying opportunity," he said.