US trade deficit falls to near two-year low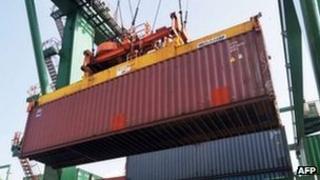 The US trade deficit has fallen to its lowest level in almost two years, as exports reached an all-time high, official figures have shown.
The deficit in goods and services narrowed to $41.5bn (£26bn) in September, raising hopes of increased strength in the US economy.
The figure was 5.1% lower than August's $43.8bn deficit and the lowest since December 2010.
Exports rose 3.1% to $187bn, driven by sales of aircraft and heavy machinery.
Imports also increased in September, rising 1.5% to $228.5bn, led by consumer goods, clothing and toys.
The trade deficit with China widened to $29.1bn, from $28.7bn in August, the latest monthly data from the Commerce Department showed.
Recent figures from the US have suggested that the economy is picking up speed.
The trade data comes a week after the closely-watched Conference Board Consumer Confidence Index showed that sentiment among US shoppers had risen to a five-year high.
Meanwhile, the most recent official figures showed that the US economy expanded at an annualised rate of 2% in the three months to the end of September, more than had been expected.