Pension schemes put more money in bonds than shares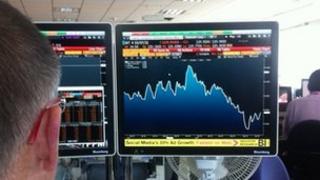 For the first time in decades, pension schemes have more of their money invested in bonds than in shares.
The figures come from an annual survey by the Pensions Regulator and Pension Protection Fund (PPF) of final-salary schemes in the private sector .
These schemes now have 38.5% of their money in shares, but 43.2% in government and company bonds.
Even a year ago, the balance was still in favour of shares, by 41.1% as against 40.1% in bonds.
The change back towards investing more heavily in bonds has been going on for the past decade as schemes have sought less risky investments..
It has been prompted by the increasing desire of pension schemes to invest in supposedly safer and less volatile investments, especially as final-salary schemes become more mature with an increasing proportion of their beneficiaries being in or near to retirement.
Also, the past decade has also been a particularly poor one for stock market investment while bonds have turned out to offer better returns over the same period.
The Pensions Regulator's chief executive, Bill Galvin, said: "This publication gives us an important insight into the state of play for defined-benefit (DB) schemes and the risks they face.
"We appreciate that the current economic situation presents a continuing challenge to trustees - low interest rates and low gilt yields have contributed to increased liabilities and deficits for many DB schemes."
The survey, published by the regulator and the PPF as the Purple Book, also shows that the proportion of final-salary pension schemes in the private sector closed to current members, as well as new ones, has risen in the past year from 26% to 28%.
Mark Duke, of actuaries Towers Watson, said: "With funding levels badly under water, more employers may now decide that the first step towards solving the problem is to turn off the tap and stop adding to their liabilities."
"The pace of closure may have been relatively slow in the year to March but the trend is only in one direction," he warned.