Dexia gets further aid from France and Belgium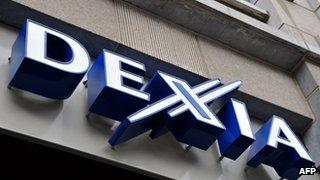 France and Belgium have agreed to pump a further 5.5bn euros ($7bn; £4.4bn) into struggling bank Dexia, after it reported another large loss.
The bank, which was bailed out by France and Belgium last year, posted a third-quarter net loss of 1.23bn euros.
Meanwhile, French bank Societe Generale saw third quarter net profits sink 86% to 85m euros as it dealt with the cost of exiting from Greece.
In Germany, Commerzbank reported net quarterly profits of 78m euros.
Dexia's troubles
Under the terms of the aid for Dexia, Belgium will inject 53% of the funding, with France providing the rest.
The prospect of injecting more money into Dexia threatens to undermine both countries' efforts to rein in their deficits, as the European Union is putting eurozone budgets under intense scrutiny.
Dexia's latest loss brought the total loss for the first nine months of the year to 2.4bn euros.
Part of the reason for the loss in the third quarter was a loss of 599m euros after Dexia sold its Turkish business DenizBank.
Uncertain outlook
Societe Generale's third-quarter results were hit by one-off losses which resulted from the sale of its Greek business Geniki and fund-management unit TCW.
Excluding these items, Societe Generale joined rival investment banks, such as BNP Paribas, Deutsche Bank and Citigroup, in reporting a strong rebound in revenues from trading financial instruments like bonds.
However, the company warned the outlook for 2013 was uncertain.
"Economic growth should remain sluggish overall, with a key uncertainty in the US - the fiscal cliff - in the beginning of the year, said chief executive Frederic Oudea, in an interview with Reuters TV.
Commerzbank in profit
Germany's second-biggest bank, Commerzbank, had good news for investors as it said it was back in profit in the third quarter of this year.
The bank unveiled a net profit of 78m euros for the July-to-September period, although that was lower than analysts had expected.
Commerzbank's chief executive, Martin Blessing, signalled challenges ahead saying the market environment would "remain volatile in the coming months".
"We are, therefore, continuing with our strict cost management, consistently reducing non-strategic portfolios further and strengthening our profitability," he said.