EU to investigate Chinese solar panel subsidies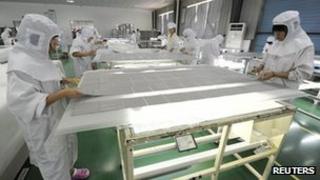 The European Commission has opened an investigation into subsidies given to Chinese solar panel makers.
Brussels said the move was in response to a request from European manufacturers, who accuse their Chinese rivals of being able to sell panels in Europe at artificially low prices.
It is just the latest twist in a continuing trade row over the product between China and the US and Europe.
On Wednesday, the US upheld higher tariffs on Chinese panels.
The commission's announcement is the second such investigation in two months. In September it launched a study into allegations that Chinese firms were selling panels in Europe at up to 80% below their actual cost, an action known as dumping.
Brussels' latest investigation follows a second complaint by the ProSun group of 25 European solar panel companies.
The Chinese government denies any wrongdoing, and has accused European governments of giving their solar panel makers unfair subsidies.
Earlier this week, China lodged a formal complaint about the matter with the World Trade Organization.
The commission estimates that Chinese firms sold about 21bn euros ($27bn; £17bn) of solar panels and accompanying components to the European Union in 2011.