Airbus owner EADS hit by exposure to US jet firm Hawker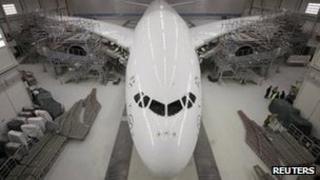 Aerospace and defence group EADS has seen a small fall in profits because of its exposure to struggling US private jet business Hawker Beechcraft.
Pan-European EADS, the owner of Airbus, made a net profit of 309m euros ($394m; £247m) in the third quarter, down 1% from 312 euros a year earlier.
EADS lost 76m euros after Hawker - for which it does maintenance work - went into bankruptcy protection.
Last month, EADS and the UK's BAE Systems called off merger plans.
EADS's revenues for the July-to-September period were up 15% to 12.3bn euros as a result of a strong performance by Airbus.
Hawker, which went into bankruptcy protection earlier this year, is still seeking a new owner after recent talks with a potential Chinese buyer collapsed.
EADS and BAE Systems cancelled their merger talks after they were thwarted by political deadlock, with the UK, French and German governments failing to overcome their objections.
On Wednesday, it was confirmed that EADS's offices had been searched by authorities in Germany as part of an inquiry into alleged corruption.
The investigation centres on the sale of Eurofighter jets to Austria.