China congress: Hu Jintao says reforms to deepen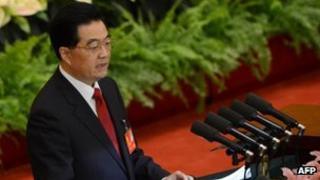 China's President Hu Jintao has said the country will deepen its economic reforms and boost domestic demand to spur a new wave of growth.
Opening the Communist Party congress, Mr Hu added that China needed to work towards a more "market-based" exchange rate for the yuan.
China has been trying to boost domestic consumption to offset a decline in exports.
The congress comes as China's economic growth rate has hit a three-year low.
"We should step up efforts to transform to a new growth model and work hard to improve the quality and efficiency of the economy," Mr Hu said.
"We will continue to deepen our economic system reform and stick to the policy of expanding domestic demand."
Financial reforms
China has been introducing reforms in its tightly controlled financial sector, which many analysts say is the key to unlocking future growth.
In June this year China's central bank gave the country's lenders flexibility to decide the interest rates they want to offer to consumers, within a stipulated range.
Beijing also widened the range in which the yuan is allowed to trade against the US dollar to 1.0% on either side of a daily rate set by the central bank. The previous limit was 0.5%.
Meanwhile, China's securities regulator has eased entry rules for foreign investors under its Qualified Foreign Institutional Investor (QFII) programme.
It allowed the QFII's to hold more shares in the firms listed in China and also to invest in the country's interbank bond market.
On Wednesday, China's state news agency Xinhua reported that the regulator was considering speeding up QFII approvals to attract more long-term overseas investment.
It said the regulator had granted 57 new QFII licences this year.
Analysts said that it was not clear at this stage what further reforms Beijing may introduce in the sector.
"Lots has been talked about financial reforms in China over the past decade," Tony Nash, managing director of IHS Global Insight, told the BBC.
"But one has to wait until the new leaders take charge and start to formulate their policies and communicate them to domestic and international markets."
Inclusive growth
One of the areas of concern in China has been the gap between the rich and the poor.
In China's richest places, such as Tianjin, Shanghai and Beijing, average incomes are just over $10,000 (£6,250) a year, comparable with some European countries, whereas in relatively poor areas such as Guizhou the average income is just over $2,000, more in line with countries such as Sudan.
There have been calls for China to ensure that the gap is reduced and that its economic growth is more inclusive.
Mr Hu said that to make China's development, "much more balanced, coordinated and sustainable, we should double its 2010 gross domestic product and per capita income for both urban and rural residents [by 2020]".
He added that to achieve that target, China needed to "increase investment at a proper pace and expand the domestic markets".