US panel affirms tariffs on Chinese solar products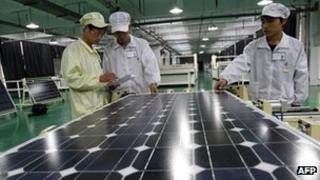 The US International Trade Commission (ITC) has upheld the higher tariffs that were announced last month on imports of solar cells from China.
It ruled that Chinese imports had hurt US domestic manufacturers.
The US said these tariffs would offset subsidies China pays its manufacturers. It also alleged that Chinese firms were selling goods at rates below fair value, a practice know as dumping.
China said the decision would damage trade relations between the countries.
US manufacturers alleged that state subsidies had helped Chinese manufacturers flood the US market with cheap goods.
They said the higher tariffs would ensure a level playing field for all.
"With this relief, combined with an aggressive domestic enforcement regime, there is hope that the United States can maintain a viable solar manufacturing base," said Gordon Brinser, president of Oregon-based SolarWorld Industries America Inc.
However, critics of the tariffs said that the duties would make the products more expensive for American consumers.
"Unilateral tariffs and a trade war in today's interconnected global marketplace are unnecessary and detrimental to effective and efficient business competition," said Jigar Shah, president of the Coalition for Affordable Solar Energy.
Chinese dominance
As developed economies try to increase their use of renewable energy sources, the market for such products has grown and is expected to grow even further.
Chinese manufacturers have seen their market share increase substantially in the past few years and they are now amongst the biggest players in the sector.
China exported nearly 21bn euros ($26bn; £17bn) worth of solar panels and components to the European Union (EU) last year.
Its solar cell and solar panel exports to the US stood at nearly $3.1bn in 2011.
However, manufacturers in the US and Europe have suggested that the rise of Chinese firms has been due to state subsidies.
Earlier this year, the EU launched an investigation into alleged dumping by Chinese firms.
Trade war?
China has denied these allegations and there are fears that the dispute may spark trade friction.
Earlier this week, China filed a complaint with the World Trade Organization, alleging that some European governments were providing subsidies to solar panel makers.
"The Chinese government has the right and the responsibility to fight for a fair international trade environment for China's solar industry," China's Ministry of Commerce spokesman Shen Danyang said while lodging the complaint.
Some manufacturers who supply solar energy products to Chinese firms said they were concerned that retaliatory action by Beijing may hurt their business.
"If you punch someone in the nose, [you] ought to have a backup plan for when they retaliate," said Tom Gutierrez, president of GT Advanced Technologies, which exports high-technology equipment used in solar panel manufacturing to China.
"I'm preparing for the fallout."