Time Warner's profits lifted by cable TV operations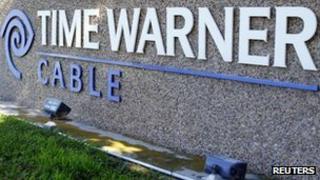 Media giant Time Warner has reported a modest rise in quarterly profits after growth at its cable TV networks offset a decline at its movie business.
The company's net profits for the July to September period increased 2% to $838m (£525m) from $822m a year earlier, beating market expectations. Its revenues fell 3% to $6.9bn.
Revenues at its cable TV unit, which includes the HBO channel, were up 4%.
This compares with a 12% fall at film division Warner Bros.
Time Warner, whose other TV stations include CNN, said it would be sticking to its full-year profit targets.
Revenues at the company's publishing unit, which owns magazines including Time and Sports Illustrated, were down 6% as both advertising revenues and sales fell.
HBO has performed strongly in recent years, with its original dramas such as The Sopranos, Game of Thrones and Boardwalk Empire, being sold around the world.