Comet staff offered Christmas jobs by Dixons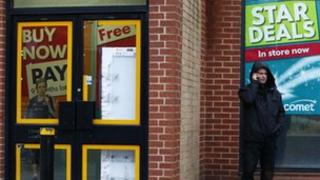 The electrical chain Dixons is offering Christmas jobs to hundreds of Comet staff who face redundancy because their firm is insolvent.
Comet's administrators, appointed last week, are keeping its stores open in the hope of finding a buyer.
But the outlook for the 7,000 staff is bleak and they all face potential redundancy.
Sebastian James, chief executive of Dixons Retail, said 500 Comet staff had already approached his firm.
"We are taking on a total of 3,000 people -2,000 in the stores," he told the BBC.
"We have delayed our recruitment so that Comet colleagues who want to join our stores can get a chance to do so.
"We are hoping we will get as many as possible of the Comet colleagues to join us," he added.
Mr James explained that the Comet staff were attractive to Dixons because they already know about its business - which includes Currys and PC World - its customers, and the products it sells.
However he said that Dixons would not be trying to buy any Comet stores from the administrators.
"As we look across the country we are pretty much on all the same parks they are, so it doesn't really make sense for us to do that," he said.