Kingfisher Airlines' losses widen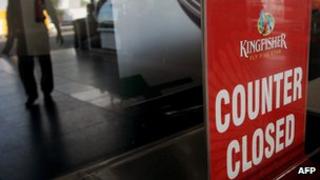 Losses at India's Kingfisher Airlines widened in the July to September quarter, adding to fears about the future of the embattled carrier.
It made a loss of 7.5bn rupees ($138m; £87m) during the period, compared with 4.7bn rupees a year earlier.
Earlier this week, the airline was asked to raise at least $1bn by its biggest lender.
Its licence remains suspended and banks have refused to extend any fresh loans unless extra capital is injected.
The airline, which has been grounded since October, owes money to its staff and airports as well as tax authorities.
The aviation authorities suspended its licence citing concerns about safety and the airline's financial future.
Though the firm has reached a deal with staff after offering to pay some of the money it owes them, it still needs to submit a detailed outline to authorities of how it plans to secure its financial future before it is allowed to fly again.
Kingfisher said that it was in the process of preparing a restructuring plan and would be submitting it to the authorities as well as to its lenders.
"The airline is in discussion with various stakeholders to ensure that there are no future disruptions," it said in a statement.