ING withdrawal threatens vehicle funding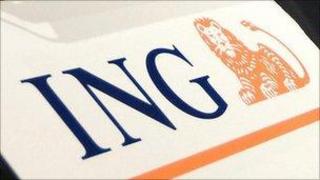 Thousands of small businesses could find it impossible to buy new vehicles and equipment after a top finance firm said it would pull out of the UK.
Dutch bank ING has decided to close Surrey-based ING Lease UK, which has been pumping over £1bn a year into the British economy.
Companies have been turning to leasing contracts, as bank loans and overdrafts have become harder to obtain.
ING's withdrawal removes as much as 40% of this money at a stroke.
Under a lease arrangement, a broker arranges the purchase of the equipment, which is owned by the leasing company. All the business has to do is keep up the regular payments.
ING has already announced the sale of its UK savings business, ING Direct, to Barclays. It has been off-loading assets to repay the Dutch government for aid received during the financial crisis in 2008.
But the withdrawal from leasing also shows how banks across Europe are being prompted to slash some activities because of new rules forcing them to hold more capital in reserve.
The 300 staff at ING Lease's headquarters in Redhill were told last week that half of them were likely to lose their jobs in the near future, with the remainder kept on to help run down the business.
Those job losses are part of a bigger overhaul of ING's European operation, which will see 2,350 staff lose their jobs and save the group almost 500m euros (£400m).
The firm announced that 1,350 jobs would go in the insurance and investment management division and 1,000 in commercial banking, which includes ING Lease.
Funding shortfall
This year, 31% of total investment in new machinery and equipment has been paid for through leasing contracts, so the ING closure will cause months of disruption. It is likely to put a squeeze on this sort of finance for a great deal longer.
Competitors, including Investec Bank, Aldermore and Close Brothers, have promised to do what they can to fill the gap, but insiders say the best hope is that they will come up with half of the money needed.
Last year, the leasing business provided £22bn to help keep British industry running - many of the deals being done direct between banks and large companies. On that measure, ING Lease accounted for 5% of the market.
However, it specialised in the smaller end of the business - farms and young firms that got in touch via specialist brokers.
It is these customers, wanting essentials such as tractor attachments, computers, desks and commercial vehicles, which will bear the brunt of the loss.