Gender pay gap 'at risk of worsening', say campaigners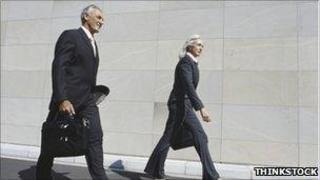 The pay gap between men and women is at risk of widening for the first time on record, a leading pay equality campaign group warns.
The Fawcett Society says that women still earn 14.9% less on average than men for the same job.
But it says this gap could widen as public sector cuts push women into the private sector, where the gap is wider.
The warning coincides with a survey which suggests that a woman can earn £423,000 less than a man in her career.
That average lifetime earnings figure comes from the Chartered Management Institute (CMI) 2012 Gender Salary Survey, which also finds that the average pay gap stands at £10,060. This is a drop from 2011, when the difference was £10,546.
Women also lose out when it comes to bonuses, receiving less than half the average £7,496 that men receive, says the CMI.
Ceri Goddard, the Fawcett Society's chief executive, said the CMI survey should serve as "a wake-up call to government - business as usual isn't working".
Minister for Women and Equalities Jo Swinson said: "Pay inequality remains a stubborn obstacle to real fairness in the workplace.
"We have implemented measures in the Equality Act to make pay secrecy clauses unlawful and we are taking through legislation which would give tribunals power to order that employers conduct a pay audit where they have been found to discriminate over pay."
More still needed to be done, she added.
'Into reverse'
The Fawcett Society, which campaigns for gender equality, is calling for a dedicated women's employment strategy and for the government to bring more pressure to bear on the private sector to pay women equally for the same job as men.
It is concerned that the employment trend from public to private sector work is likely to push more women into insecure, low-paid, part-time jobs. The private sector pay gap, at 20.4%, is higher than in the public sector.
"Far from slowly moving forward, we now face going into reverse", warned Ms Goddard.
Annual figures on pay from the Office for National Statistics to be published next week are expected to indicate that the gap is widening.
"In recent years, progress on closing the gap has slowed, but as the age of austerity bites, we now face the very real prospect of the gap actually widening for the first time since records began," Ms Goddard said.
The warning comes on Equal Pay Day, marking the point in the year when women effectively start working for nothing compared to men.
As well as earning less for doing the same jobs, women still have to climb a much steeper slope than men to reach the top, the CMI figures show.
For while career women account for 57% of the professional workforce, just 40% are department heads and 25% are chief executives, says the CMI.
Ann Francke, CMI chief executive, said: "This lack of a strong talent pipeline has to change, and fast. Allowing these types of gender inequalities to continue is precisely the kind of bad management that we need to stamp out."
She wants the government to "name and shame" companies "perpetuating inequality".
Baroness Prosser, deputy chair of the Equality and Human Rights Commission, argues that if women are offered more career opportunities, it would help reduce the gender gap.
"The onus is squarely on employers to redress the balance, but female executives should also look to make the most of the practical support available to them," she said.
The CMI's National Management Salary Survey, conducted by XpertHR, collected data on 38,843 employees, from junior manager to board level, between August 2011 and August 2012.