New car sales rise 12% in October, SMMT says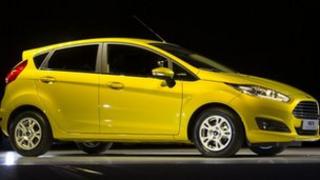 UK new car registrations rose 12.1% in October, with the Ford Fiesta retaining its long-running status as Britain's best-selling car.
Over 151,250 new cars were registered during the month, said the Society of Motor Manufacturers and Traders (SMMT).
October's buoyant figures bring the year total to 1,771,861 units - a 5% increase on the same period last year.
The SMMT expects this figure to top two million for 2012, an increase on its July forecast of 1.97m.
The Ford Fiesta remains Britain's best-selling car, with 8,058 units sold in October and nearly 97,000 in the year to date.
Drivers are increasingly turning to smaller, more fuel-efficient cars in response to rising petrol prices and higher road taxes for bigger-engined models.
According to the SMMT, the Mini segment of the market has grown 52% over the year, while Superminis have grown 5.8%.
Collectively, these two segments now account for nearly 40% of the market.
Cost and eco-conscious drivers are also turning to "alternatively fuelled vehicles" (AFVs), such as electric and hybrid cars, which are free from road tax under a government incentive scheme.
The AFV segment has grown 13% so far this year, although overall market share remains less than 1.5%.
The UK figures contrast markedly with demand throughout the rest of Europe.
Ford, which has the largest share of the UK market at 13.7%, recently announced losses in its European division, saying that demand on the continent was the lowest it had been for 20 years.
Fiat also recently announced losses in its European division and said the market would not recover until 2014.