UK 'depression' to last two more years, Niesr says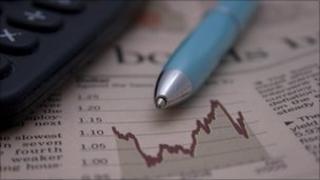 The UK economy will remain in a period of depression for two more years, a leading think tank says.
The National Institute of Economic and Social Research (Niesr) considers an economy is in depression when output is below its previous peak.
It estimates that GDP, the measure of economic output, grew by 0.5% in the three months to October from a year earlier.
But that still leaves it 2.8% below its peak level at the start of 2008.
It is already the country's most drawn-out depression since the 1920s, beating the 1930s Great Depression.
The UK is however no longer in recession - meaning that its economy is now enjoying positive growth, albeit much weaker than is typical at this stage of an economic recovery.
According to data from the Office for National Statistics, Britain suffered a relapse of recession between September 2011 and June this year, but enjoyed 1% positive growth in the subsequent three months.
Many years
The tepid recovery is due to spending cuts by the government, households and companies, as well as weak exports, according to Niesr economist Simon Kirby.
Even once the UK has regained its peak level of output, the economy will still have considerable spare capacity, he told the BBC, meaning that many will still be unable to find appropriate employment.
"The total number in employment has already regained its pre-recession level," he said. "But the population has continued to grow in the meantime, and that means the employment rateis still below peak."
In addition, many of those in work are under-employed - doing part-time instead of full-time jobs - or accepting employment below the level for which they are qualified.
"It will be a considerable number of years before the output gap is closed," he said, putting the date for this return to economic normality beyond 2017.
The Niesr forecast predicts growth of 1.1% next year and 1.7% in 2014. Only from 2015 can we look forward to a sustained recovery.
But even once the economy has regained its potential level of output, Mr Kirby predicts that its long-run growth rate will be only 2% each year, lower than the long-run average of 2.5%.