Greece hopes for tourism led recovery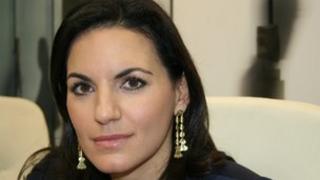 The Greek tourist board official was not in a friendly mood.
A request for an interview with a senior figure from his organisation was met with hostile incredulity.
The stand-off was at the World Travel Market, the four-day global gathering of the world's tourism industry, which is held every November at London's Excel exhibition centre.
Standing in front of Greece's large stand area, which was teeming with staff, the official was not going to budge on helping to arrange an interview.
And then he stormed off mid-conversation, despite it being the event's official day for the world's national tourism authorities to speak to the media.
With Greece's dire financial and economic woes being played out a global stage, it was perhaps unsurprising that the member of staff was a bit jittery with a reporter.
Thankfully one of his female colleagues was far more helpful, and she quickly organised an interview with Greece's Tourism Minister, Olga Kefalogianni.
'Welcoming'
A friendly Ms Kefalogianni said tourism was vital for Greece.
"Tourism as a sector is a major boost for the Greek economy, and will continue to play a major role in the economic recovery," she says.
"It now accounts for 18% of Greek GDP [gross domestic product] and 20% of the country's employment, so it is a very important sector in terms of job creation and social cohesion."
While Greece and its many picturesque islands remain very popular holiday destinations for British and other northern European holidaymakers, the country has quietly fallen out of the top five European holiday destinations over the past five years.
Last year Greece was in 10th place for the number of overseas visitors, according to the United Nations World Tourism Organization.
The decline has come against a backdrop of a high euro making more holidaymakers look to places like Turkey and Bulgaria, and negative publicity surrounding the mass protests in Athens and other Greek cities against the debt-ridden government's sharp spending cuts.
To boost visitor numbers, Ms Kefalogianni said she was launching an advertising drive in key markets such as the UK, although she was unwilling to say how much money was being spent.
"We don't have a huge budget, but aim to be as creative as possible in each market," she says. "We want more people to come and experience Greek hospitality."
For proud Greek Victoria Koullouro, who was dressed as a yellow sun to promote the island of Rhodes, the world's media has not helped Greece's tourism sector.
"The TV coverage of all the protests [in Athens] has made everything look a lot worse," she said. "The islands are unaffected and remain as beautiful as ever."
Her friend Sofia Killia added: "Even in Athens it is only the very centre of the city that is affected. Come and visit us, come and see that Greece remains as welcoming as ever."
Tourism industry analyst Mike Bugsgang, of London-based Bugsgang & Associates, agreed that Greece should continue to remain a popular holiday destination.
"It is far from doom and gloom for Greece. Outside the big cities there are no problems whatsoever," he says.
"Yet because of the adverse publicity surrounding the protests, they are some very good holiday deals to be had."
Twenty people
With almost every country on the planet in attendance, the World Travel Market is a colourful affair, as each nation aims for its exhibition space to stand out from the crowd.
This year marked the return of Libya, with the country's new government sending a delegation of officials.
Abdulmoneim Elgezawi looked very proud to be there, and was keen to promote Libya as a future tourist destination.
Despite the killing of the US ambassador to Libya earlier this year, Mr Elgezawi said the country had big ambitions.
"We have had some problems in recent months, but that is now finished" he says.
"It is very safe now in Libya, everything is working, everything is OK. We had 20 people visiting from Holland last week, and we now get around that number every week.
"My ambition? For Libya to be the world number one tourism destination."
While overtaking the likes of France may prove difficult, Libya does have tremendous tourist industry potential. The country has 1,430km (890 miles) of Mediterranean coastline, warm weather, and a number of important Roman ruins.
Fiona Jeffery, chairman of the World Travel Market, said it was "hugely encouraging" that the Libyan delegation was in attendance, and compared the country with other nations that had seen their tourism industries recover following military conflict.
She says: "A long time ago people would not have considered Vietnam or Cambodia, and more recently Croatia. The fact Libya is here shows it is open for business."
Olympic impact
Mr Bugsgang said 2012 had been "a difficult year for most of the travel industry in the UK and Europe because of the gloomy economic outlook".
He adds: "Plus in the UK, lots of people decided to stay at home to watch the Olympics and Jubilee celebrations. As a result, there was lower demand in the peak holiday season.
"Also, the holiday sector has to be seen as part of wider consumer spending, and it is very difficult for tourism authorities to compete with the marketing spend of companies such as Apple. And if people are going to buy the latest version of the iPhone or iPad, then they will have less money to spend on their holidays.
"Yet there have been some good news stories in the travel industry this year, such as the global cruise sector being unaffected by the capsizing of the Costa Concordia in Italy. Yes, worldwide bookings did initially fall back, but they very quickly recovered."