Credit cards with cashback reward 'on the rise'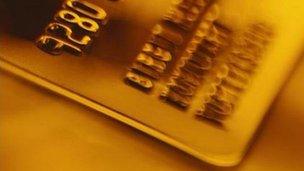 Cashback deals are becoming more common in reward schemes for credit card customers, research has indicated.
The number of cards on the market that carry the feature has doubled in two years, according to the report by financial research group Defaqto.
The report, commissioned by card provider Capital One, suggested that the growth had not been mirrored by other rewards features.
One expert has warned of the danger of choosing a card based on rewards.
The Defaqto report found that people in the UK could choose from about 245 different credit cards. About three quarters of these were regarded as standard, rather than platinum or gold, cards.
The most common features that these cards carried as customer rewards were points schemes and shopping rewards, that were each found on 20% of cards.
Air miles featured on 10% of cards, while 9% of cards had cashback rewards.
Cashback is the only one of these that has seen a big rise in the past two years, the report suggested. However, it still only features on 22 cards.
Each time the customer uses their card an amount of cashback is accrued. After a set period, usually annually or monthly, the cashback amount is paid automatically to the customer's credit card.
Cashback amounts vary but can reach up to £36 for every £100 spent on the card each month.
"To make the card truly worthwhile a customer would need to spend well in excess of £1,000 per month, so these cards are most likely to appeal to the higher spenders," the report said.
The upper threshold of £36 is on one particular card where the cashback rate - 3% on all spending - is capped at £100 per year, so there is no customer benefit from spending anything more than £278 per month on that card. The average cashback level on cards is much lower.
For many people this would require a change of habit, by using a credit card for everyday spending.
So, customers should be realistic about whether they would be happy to do this for the cashback rewards, according to Sarah Pennells, founder of the Savvywoman financial website.
"If people are used to paying for their shopping or fuel by cash, then they might not think about getting a credit card out," she said.
Customers should consider the whole package being offered by a credit card provider when choosing a card, she added.
Cashback would only prove to be a benefit if borrowers paid off their credit card each month, or took advantage of longer interest-free periods, she said. Other considerations when shopping around for a card might include charges when using the card overseas, she added.
Related Internet Links
The BBC is not responsible for the content of external sites.