Q&A: PPI claims - how high could they go?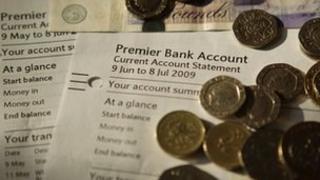 The UK's banking industry faces a monumental bill for the past mis-selling of payment protection insurance (PPI).
As of 5 November 2012, the amount set aside by 14 banks, building societies and credit card firms stood at £12.96n.
The biggest bill is being shouldered by the Lloyds banking group, at just under £5.3bn so far.
The sum for all of them is likely to rise further as millions of past customers continue to lodge claims for mis-selling, in the hope of receiving a payment, currently running at an average of £2,750 per claim.
One woman interviewed by the BBC has successfully claimed £65,000.
It seems as if the bill for the banking industry will far outweigh the cost of previous scandals, such as the mis-selling of private pensions and endowment policies.
How much have they paid out?
The consumers' association Which? has added up the figures from the bank's own publications and puts the cost so far at £12.96bn.
This includes the cost to the banks of administering the repayment process.
Lloyds Bank, for instance, employs 1,000 people just on this, so the overhead costs are considerable. The figures are likely to rise as more complaints come in.
How many people have been affected?
About 16 million PPI policies have been sold since 2005.
Some people would have had more than one policy.
And of course, some of the policies would have been sold validly, with the borrowers subsequently making valid claims too.
But it is obvious that millions of people have decided that they have scope for making a complaint and demanding some compensation.
How much more money is at stake?
Back in 2010, the Financial Services Authority (FSA) calculated that if 20% of PPI purchasers were compensated, than about 2.75 million people would be paid about £2.7bn - in other words, just under £1,000 a head.
With £12.96bn now being set aside (including bank overhead costs) and claim payouts averaging more at £2,750, that suggests about four million to 4.75 million people have been, or soon will be, compensated.
And if more people make valid complaints, the industry's bill will expand even further.
Are the banks playing ball?
They say they are.
But the Financial Ombudsman Service (FOS), which deals with complaints that banks have turned down, has now received half a million PPI complaints, at a rate of 400 every hour.
These are ones that the banks and other lenders have rejected.
About 70% of the PPI complaints the FOS has ruled on have been upheld in favour of the customer.
So the banks are still incorrectly turning down many valid ones.
In fact, in the first six months of 2012, the FOS upheld nearly all PPI complaints against some businesses, mainly big banks and credit card companies.
The highest uphold rates were against Lloyds TSB (98%), MBNA (97%), Barclays (93%), CitiFinancial (93%), Welcome Financial (92%), Bank of Scotland (90%), HFC (part of HSBC, 90%) and NatWest (89%).
How did the industry get into this huge and costly mess?
More than a decade ago, banks and credit card firms worked out that they could make lots of money selling insurance to borrowers, typically people taking out mortgages or credit cards.
The supposed aim of the insurance was to repay any outstanding loans if the borrowers fell ill or lost their jobs.
But the lenders also calculated, accurately, that they could charge a lot for the cover and that people would not really notice the cost either.
At one stage in the middle of the last decade, sales of PPI polices were the single biggest source of profit for the UK's High Street banks.
What went wrong?
What went wrong for the customers was that they were often sold the policy when they did not need it, or were excluded from making a valid claim by the terms of the policy.
In other cases, people were told they had to buy the insurance as a condition of being offered their loan.
Some people have even complained that a PPI policy was just imposed on them, and premiums deducted, without their knowing anything about it.
What went wrong for the banks was that firstly, consumer groups like Citizens' Advice and Which? started campaigning against PPI sales.
Official bodies such as the Office of Fair Trading (OFT), the Competition Commission, and the FSA slowly took up the issue.
It all came to a head in 2010, when the FSA announced new rules on future PPI sales and demanded that lenders go back through old rejected complaints, and also old sales where there had been no complaint at all, to see if past sales met new standards.
If not, the borrowers had to be told that they might have grounds for complaint and compensation.
What then?
A legal challenge to all this by the banks failed in the High Court in April 2011.
The dam burst and a deluge of claims for compensation has now swamped the industry.