UK service sector growth 'weakest in almost two years'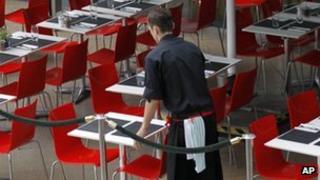 Activity in the UK service sector grew at its slowest pace in almost two years in October, a survey has suggested.
The PMI services index from Markit/CIPS fell to 50.6 from 52.2 in September. Any score above 50 indicates growth.
Growth in new business eased, while employment in the sector fell for the second consecutive month, Markit said.
The figure was a reminder of the tough underlying economic conditions despite last month's better-than-expected growth figures, it added.
Official figures showed that the UK economy grew by 1% between July and September, ending a nine-month long recession.
Bank meeting
"The latest UK services PMI data provide a warning to those who saw the strong growth in the GDP in the third quarter as symbolising the start of a strong and speedy economic recovery," said Markit economist Andrew Harker.
"The expectation among firms is for activity to improve over the coming year, but the road to full economic recovery still looks to be a long one."
Last week, the PMI survey for manufacturing indicated that the sector shrank in October for the sixth month in a row, while the survey of the construction sector found that while output was slightly higher, new work and employment shrank.
Analysts said the weaker-than-expected services PMI reading increased the possibility that the Bank of England might increase its programme of quantitative easing (QE), which has now reached a level of £375bn, when its monetary policy committee (MPC) meets later this week.
Under QE, the Bank buys government bonds, hoping to create beneficial knock-on effects for the economy.
"It does raise the risk of further QE from the Bank. On balance, though, we think it probably won't, given the risk of inflation," said George Buckley at Deutsche Bank.
"What it does tell us is that while there have been some mixed messages, more positive than negative, we're not seeing a very fast recovery at all."
Vicky Redwood, at Capital Economics, said: "The MPC pays a lot of attention to this survey and this Thursday's meeting now looks an even closer call than before.
"Given the stronger near-term outlook for inflation, we think that the chances of more QE this week are just below 50-50."
Separately, a report suggested that the UK would be the fastest-growing major economy in Europe in the next two years. The eurozone debt crisis would drag the bloc into a second year of recession, the Centre for Economics and Business Research (CEBR) said.
While the eurozone economy would contract by 0.4% in 2013, the UK economy would grow by 0.8%, the think tank predicted. In 2014, the CEBR said the eurozone would register growth of 0.4%, compared with the UK's 1.4%.