HSBC raises money laundering provisions by $800m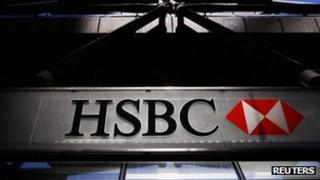 HSBC bank has put aside a further $800m (£500m) to cover potential money-laundering fines in the US and has announced a fall in quarterly profits.
The bank had already put aside $700m after a US Senate report published in July said lax controls had left it vulnerable to money laundering.
Pre-tax profit for the three months to the end of September was $3.5bn, down $3.7bn from a year earlier.
However, the bank said underlying profits in the quarter had increased.
They totalled $5bn, more than double the figure recorded for the same quarter a year ago.
The bank attributed this rise to growing revenues at its investment banking and commercial banking divisions, as well as fewer write-offs on bad loans.
It said while developed markets remained sluggish, emerging markets provided opportunities for growth.
"While subdued economic conditions persist in Europe and other Western economies, we remain confident in our outlook for growth in the emerging world and, particularly, in mainland China, where we continue to expect a soft landing," said group chief executive Stuart Gulliver.
Mis-selling claims
Europe's largest bank said it was in discussions with US authorities, but no agreement on fines over the money laundering rule breaches had yet been reached.
It said the "final amount of the financial penalties could be higher, possibly significantly higher [than the $1.5bn already set aside]".
The Senate report into HSBC said huge sums of Mexican drug money almost certainly passed through the bank.
"The money laundering provision is a concern, particularly given the uncertainty on what the final figure might be," said Richard Hunter at broker Hargreaves Lansdown.
"The additional PPI provision, while prudent and in line with its peers, is another reason for investors to think carefully about entering a sector fraught with unknowns."
The bank put aside a further £223m to cover UK payment protection insurance (PPI) mis-selling claims.
This brings the total HSBC has set aside for PPI compensation to £1.3bn.
Following the Royal Bank of Scotland's decision to set aside a further £400m and Lloyds putting a fresh £1bn aside for mis-selling last week, this brings the total for the UK banking industry as a whole to almost £13bn.