Toyota raises profit forecast as recovery continues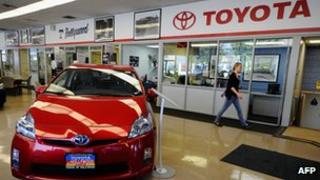 Japanese carmaker Toyota has raised its annual profit forecast as it continues to recover from the impact of last year's natural disasters.
It has predicted a net profit of 780bn yen ($9.7bn; £6bn) for the financial year to 31 March 2013, up from its earlier of forecast of 760bn yen.
The rise comes amid a sharp recovery in Toyota's sales in Japan and the US.
However, it warned that Japan's continuing territorial dispute with China may hurt its sales there.
Toyota issued the profit guidance as it reported a 221% jump in profit for the July to September quarter from a year earlier.
It said it made a net profit of 257.9bn yen during the period. That is up 80.4bn yen from the same period last year, when its earnings were hurt by a drop in production due to the disruption caused by the earthquake and tsunami in Japan.
"For the first six months of this financial year, we have seen a significant increase in production in all regions compared to the same period last year when we suffered parts-supply shortages," said Satoshi Ozawa, executive vice president of Toyota.
China and Europe concerns
While the firm raised its forecast for sales in the US, its biggest market, it lowered the projections for Europe as well as Asia excluding Japan.
The continuing debt crisis in Europe, which has now spread to some of the region's bigger economies, has hurt consumer confidence and dented demand.
Toyota said the subdued economic conditions in the region were likely to hurt its sales there.
At the same time, a territorial dispute between Japan and China, over a set of disputed islands in the East China Sea, has also hurt sales of Japanese products, especially cars in China.
The dispute flared up after Japan's purchase of islands known as Senkaku in Japan and Diaoyu in China, over which China claims sovereignty and which are also claimed by Taiwan.
That led to anti-Japan protests in China, and as a result, various Japanese firms, including Toyota, suspended some of their operations in the country.
Analysts said that it may take some time for sales of Japanese products in China to rebound.
"It's uncertain when sales will recover in China. It's unlikely to happen anytime soon," said Kei Nihonyanagi, an analyst at Barclays Securities in Tokyo. "I think the market hopes for a recovery in January-March, but I don't really see what's going to drive that."
Toyota said "the effect of current Japan-China relations on our sales is still unclear".
However, it added that it had implemented various measures to improve its profitability and that those were likely to help it offset any decline in sales.