China economy: Non-manufacturing sector growth picks up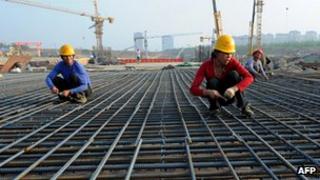 China's services sector picked up pace in October, the latest indication that its economic growth may be rebounding.
The non-manufacturing purchasing managers' index (PMI) rose to 55.5 from 53.7 in September, the statistics bureau said over the weekend.
Last week, China said its manufacturing activity had expanded for the first time in three months in October.
The figures come as China's growth pace has hit a three-year low and ahead of a once-in-a-decade leadership change.
The services sector, which includes construction, accounts for nearly 43% of China's overall economy.
A PMI figure above 50 indicates expansion, a figure below 50 indicates contraction.
Meanwhile, a separate survey released by HSBC indicated a slowdown in the non-manufacturing sector.
The HSBC non-manufacturing PMI fell to 53.5 in October from 54.3 in September. However, HSBC's index measure does not include construction activity.
Stimulus impact
China's economy expanded at an annual rate of 7.4% between July and September, its slowest pace in three years.
Its growth has been hurt by a slowdown in demand for its exports from key markets such as the US and eurozone.
As those regions continue to grapple with economic problems, China has been trying to encourage domestic demand by easing its monetary policy and boosting its infrastructure spending.
China's central bank has cut interest rates twice since June to reduce the burden on businesses and other borrowers.
It has also lowered the amount of money that banks need to keep in reserve three times in the past few months, in order to boost lending.
Meanwhile, it has approved infrastructure projects worth more than $150bn (£94bn).
The moves seem to have had a positive impact as various other figures released over the past few weeks have indicated a growth in key sectors such as retail sales and industrial production.
"Overall, we can say that recent government stimulus steps have started to gain some traction," said Hua Zhongwei, senior economist at Huachuang Securities in Beijing.
"This is a positive sign which shows that increased investment is boosting demand for related services."