Mortgage shortage for first-time buyers 'remains'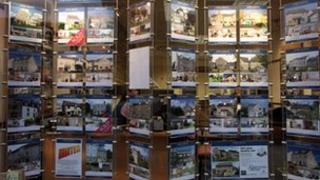 Banks and building societies are continuing to ration mortgages despite having access to cheaper funds through a new scheme, figures have shown.
The data reveals that there has been little movement in the availability of mortgages for potential borrowers who are unable to offer a large deposit.
Brokers say that, for those who have a large enough deposit, lenders have been dropping mortgage interest rates.
But there are few signs yet of things becoming easier for first-time buyers.
Cheaper mortgages
More than two-thirds of the mortgage products available on the market in the UK at the start of November required a deposit of at least 20%, according to figures from financial information service Moneyfacts.
The proportion has changed little since a month earlier. The same can be said for the relatively low levels of mortgages available for those offering a deposit of 10% of a property's value or less.
This is despite lenders having greater access to cheaper funds through the Funding for Lending scheme, run by the Bank of England.
Ray Boulger, of mortgage brokers John Charcol, said the scheme had prompted lenders to drop their interest rates on some new mortgage deals, but it had not yet led to lenders relaxing their requirements for high deposits.
"There are now several lenders who are offering five-year fixed deals, at interest rates of less than 3%, but for people with a 40% deposits," he said.
"There have been rate reductions for people seeking a deal with just a 10% or 15% deposit. But what hasn't happened is lenders loosening their criteria, so that people who did not qualify for a mortgage three months ago can do so now."
'Early days'
Mortgage rationing has been in effect since 2008 when lenders realised they had to start building up their reserves to withstand further financial crises.
They also started to fear that big falls in house prices might undermine the security of the mortgages they had already granted to people with very small deposits, or even no deposits at all.
Some £60bn is available for banks to borrow in the first phase of the Funding for Lending scheme, which began on 1 August.
The Treasury has said the scheme has started well, and one Bank of England director said the scheme would ease the decline in credit that would have occurred otherwise.
Andrew Montlake, of mortgage broker Coreco, said that lenders would first tend to change the requirements for the less risky mortgages as the access to funds started to feed through.
"It is still relatively early days for Funding for Lending," he said.
But he said there were some signs that things might start to change for first-time buyers over the next few months.
He said many lenders had paused for thought while new rules for mortgage lending were being considered by the City watchdog, the Financial Services Authority. These rules have now been announced.