Caterham Cars and Renault link up to build sportscars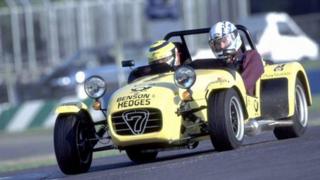 British sportscar company Caterham and French mass-market carmaker Renault have joined forces to design and build sportscars.
A joint venture company, Societe des Automobiles Alpine Caterham, will be founded to build cars at Renault's Alpine plant in Dieppe, Normandy.
The partners aim to launch a new sportscar each within four years.
Alpine, formerly an independent sports and racing car maker, was bought by Renault in 1973.
It currently produces Renault sport and racing models.
Renault's chief executive Carlos Ghosn said partnering with Caterham would help "realise our long-held ambition of creating a sports vehicle with the Alpine DNA".
"The partnership will create new opportunities for the future of the Dieppe plant and the development of an expertise at the core of its historic role," he said.
Caterham Group chairman Tony Fernandes said the deal should help transform Caterham from a "well respected niche brand into a serious player on the motoring map". Caterham is most famous for its Seven model, but it also makes the SP/300R track car.
"The future products that are already on the drawing board are going to take Caterham Cars onto the global stage that the company deserves to inhabit," he said.
'Another door opens'
The agreement between Renault and Caterham brings together two of the most flamboyant characters in the motor industry.
Serial entrepreneur Mr Fernandes, who founded budget airline AirAsia in 2001, has made his mark in the world of motoring since he first entered with a consortium of Malaysian interests through a company called 1Malaysia F1.
In 2010, Mr Fernandes revived the Lotus brand in Formula 1 racing, having obtained a licence from Group Lotus to race as Lotus Racing. Relations with the engineering and sportscar company soon turned sour, however, and the licence was revoked.
Last year, Mr Fernandes' team raced as Team Lotus - a name that was not owned by Group Lotus. Mr Fernandes then bought Caterham Cars, created Caterham Group with four motoring and technology subsidiaries, and renamed the team Caterham F1 Formula One. Renault no longer has its own Formula 1 team, though its Renault Sport F1 division supplies engines to Caterham as well as to the Lotus F1 team, which is run by Group Lotus.
"Formula 1 was always our entry point into the car business," Mr Fernandes said.
"Our original plans to develop a partnership with Lotus were put aside in spectacular and well-documented style.
"But when one door closes another door opens and now we have a far better chance to develop Caterham Cars in partnership with Renault.
"Our F1 team has already been working successfully with Renault Sport F1 since the start of the 2011 F1 season, and I am thrilled that now we are adding to our track partnership by joining forces with Renault on the road."
Partnership engineer
Renault's chief Mr Ghosn is equally fond of complex deals, though rather than starting companies his is seems to have an insatiable appetite for expanding his empire by engineering partnerships.
In the late 1990s, when he was chief executive of Nissan, he worked with then Renault chief Louis Schweitzer to create a cross-owner partnership between the Japanese and French carmakers. When Mr Schweitzer retired, Mr Ghosn became chief executive of both companies and the Renault-Nissan Alliance was born.
In his new role, Mr Ghosn also turned Dacia, a Romanian carmaker acquired by Renault, into a budget car manufacturer that enjoyed great success in Central and Eastern Europe.
Four years ago, the Renault-Nissan Alliance took a stake in Russian carmaker Avtovaz, which owns Lada. Earlier this year it took majority control of a holding company that in turn owns a majority stake of Avtovaz.
Then, two years ago, Mr Ghosn hammered out a lose partnership with Dieter Zetsche, chief executive of Daimler, which makes Mercedes and Smart cars. The two companies have since expanded their co-operation to include engine sharing and joint vehicle development.
Mr Ghosn always insists any partnership he enters into must be mutually beneficial.
According to Renault's chief operating officer Carlos Tavares, sharing the costs of developing the new sportscars with Caterham should help both companies achieve their goals.
"Our ambitions of reviving the Alpine brand depended on our ability to find a partner in order to ensure the economic profitability of such an adventure," he said.