World Bank to lend to Burma for first time in 25 years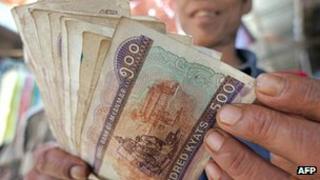 The World Bank has approved an $80m (£50m) grant and pledged lending for Burma for the first time in 25 years.
The money will go to rural communities to build roads, bridges, schools and health clinics, the World Bank said.
It comes after the current government began implementing economic, political and other reforms.
Last month, the US lifted sanctions and restrictions on financial institutions lending to Burma.
"I am heartened by the reforms that have been taking place in Myanmar [Burma] and encourage the government to continue to push forward with their efforts," said World Bank President Jim Yong Kim in a statement.
Another $165m will be made available to Burma once the country has cleared its overdue debt to the bank, said Pamela Cox, World Bank Vice-President for East Asia and the Pacific, in a conference call to reporters.
Opportunities
Discussion will continue in coming months on how to allocate those funds, said Ms Cox.
"We want to target to creating opportunities for all the people of Myanmar, especially the poor and vulnerable," she added.
Reforms have been taking place in Burma since elections in November 2010 saw military rule replaced with a military-backed nominally civilian government led by President Thein Sein.
Since the country began its reforms, the international community has increasingly looked to invest in Burma, which the International Monetary Fund says is one of the poorest countries in Asia.
EU aid
European Commission President Jose Manuel Barroso is the latest high-profile visitor. He is expected to arrive in the remote capital, Nay Pyi Taw, late on Friday.
The EU announced around $200m (£125m) in development aid earlier this year, almost as much as it has given over the past 15 years.
It is also offering Burma the same trade privileges that other low-income countries get.
BBC South East Asia correspondent Jonathan Head says the EU is now competing with the US, China and other Asian countries for trade and investment opportunities in Burma, now that most sanctions against the country have been lifted.