Starbucks revenue and customers growing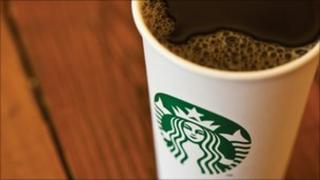 US giant Starbucks, the world's biggest coffee chain, says an increase in customers boosted revenue in the fourth quarter by 6%.
The company said net income at its shops open for at least a year was $359m (£222.6m, £277.5m euros) in the three months to September.
Starbucks said this meant it was likely to make higher than expected profits in the year to come.
Its shares were 6% higher in after-hours trading.
Overall revenue rose 11% to a record $3.36bn.
Starbucks said the recent closure of 1,000 outlets in the US during Hurricane Sandy would have little impact in context of the current quarter.
The company has come under fire in Europe for its tax policies, where it uses legal schemes to keep payments to government tax departments at a low level.
Last month, the Reuters news agency reported that Starbucks had paid just £8.6m in UK income tax on £3.1bn of sales since 1998 by reporting consistent losses.
Meanwhile, it was telling investors the UK was a profitable market.
A new report by Reuters on Thursday found the company's German and French units employed a similar tax strategy.
There is no evidence in any of these countries that Starbucks has broken the law.
Starbucks' chief executive, Howard Schultz defended its tax policy in an interview with CNBC news: "We feel 100% assured that we are well within the law, and we feel once we're able to tell our story, all of this will be rectified."