Greek stocks fall 5% on debt talk concerns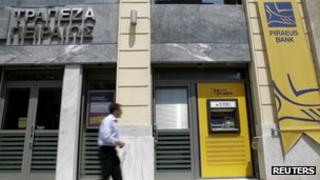 The Greek stock market has fallen 5% on concerns that talks between Athens and its rescue lenders are not progressing as smoothly as hoped.
Banking stocks were hit hard, with Piraeus Bank down 16%, on fears further aid may not be released in time.
The Greek government has warned that the country will run out of cash this month unless it receives 31.2bn euros ($40bn; £25bn) in emergency loans.
To secure the money, Athens must push through 13.5bn euros of cuts.
'Good progress'
The International Monetary Fund (IMF), the European Commission and the European Central Bank want to make sure Greece implements further austerity measures, including spending cuts, tax rises and labour market reforms, before they hand over the next tranche of loans.
IMF spokesperson Gerry Rice said "good progress" had been made in talks between the so-called troika and Athens, but added that "an understanding must also be reached between Greece and its creditors on financing terms consistent with debt sustainability".
Greece is trying to secure more time to pay back the loans it has already received from its three main emergency creditors, and to hit targets for reducing its budget deficit.
Mr Rice reiterated the IMF's stance that "there is a good case for extending the period of time for Greece to reach its fiscal targets".
However, sharp falls in the Athens market suggest investors were disappointed with the IMF comments and the lack of progress in talks.
Rising debts
On Wednesday, Greece published its draft budget for 2013, which forecast a deeper recession and worse debt problems than previously thought.
Athens now expects the economy to shrink 4.5% next year, instead of 3.8%. If the forecast proves correct, by the end of next year the Greek economy will have shrunk by more than 20% since the onset of the global financial crisis in 2008.
Government borrowing is expected to reach 5.2% of economic output in 2013, up from the previous forecast of 4.2%, and total government debt to hit 189% instead of 179%.
The upwardly-revised deficit forecast would still mark an improvement on the 6.6% figure expected for this year.
The expected overspending in 2013 is entirely accounted for by the cost to the government of meeting interest payments on its existing debts.