US consumer confidence jumps to near five-year high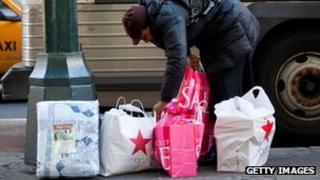 US consumer confidence jumped to an almost five-year high in October, according to a closely-watched survey.
The Conference Board's Consumer Confidence Index rose to 72.2, up from 68.4 in September, largely due to improvements in the US jobs market.
The index is seen as an important economic indicator because consumer spending accounts for about 70% of overall economic activity in the US.
Separate data showed that construction spending rose in September.
The Commerce Department said spending rose by 0.6% from August, a month when spending fell.
The two sets of data helped push the main Dow Jones US stock index up 136 points, or 1%, to 13,233.
Consumers 'upbeat'
The Consumer Confidence Index hit its highest level since February 2008.
"Consumers were considerably more positive in their assessment of current conditions, with improvements in the jobs market as the major driver," said the Conference Board's Lynn Franco.
"Consumers were modestly more upbeat about their financial situation and the short-term economic outlook, and appear to be in better spirits approaching the holiday season."
Figures release last month showed the US unemployment rate fell in September to 7.8%, its lowest rate since January 2009. The latest official monthly jobs figures are due to be released on Friday.
Last week, data showed the US economy grew by annualised rate of 2% in the three months to September.