Basic bank account concern from Consumer Focus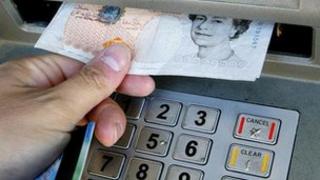 A watchdog has claimed that "dark clouds" are gathering for the future of simple bank accounts designed for vulnerable and low-income customers.
Consumer Focus said that basic bank accounts - assisting those with chequered credit histories - have been a success for the banking industry.
But it warned that a minimum standard was needed to ensure they survived.
The Treasury Committee has sought reassurance that ATM access for these customers will not be restricted.
Wishlist
One in five UK adults have a basic bank account as their only or main account, according to Consumer Focus. They were first offered about a decade ago and have most commonly been used by people needing an account to allow their wages to be paid.
These accounts do not offer overdrafts. Some have a debit card, but with only limited facilities and no chequebook. They do not incur a monthly fee.
There are about 20 basic bank accounts available. They have tended to be used by people who have experienced difficulties with credit in the past and so are turned down when applying for a regular current account.
However, only Barclays allows undischarged bankrupts to sign up, after the Co-op withdrew from this market in September.
Meanwhile, RBS and NatWest joined Lloyds Banking Group in withdrawing access for basic bank account holders to the Link cash machine network.
Consumer Focus said that action was needed from all banks and building societies to ensure there were no further restrictions of basic bank accounts in the future.
It is calling for minimum standards for basic accounts that include:
Full cash machine and Post Office counter access
Free electronic payments and debit card use
Buffer zones to cover small overdrafts
No large fees for unpaid charges
"The last thing these consumers need is a race to the bottom between banks which keep chipping away at the features these accounts offer," said Mike O'Connor, chief executive at Consumer Focus.
"Without intervention, these accounts could become less useful or more expensive for low-income consumers."
The Co-operative Bank, which blamed an "un-level playing field" for pulling out of offers to undischarged bankrupts, has also expressed its fear that the standards for basic bank accounts will continue to deteriorate.
Cash machine access
In tandem with the campaign from Consumer Focus, the Treasury Committee said providers including Bank of Ireland, Clydesdale and Yorkshire Bank, the Co-op and Nationwide had confirmed they had no plans to restrict cash machine access for basic bank account customers.
Similar undertakings were given by Barclays, HSBC and Santander during the committee's inquiry into ATM access earlier this year.
"We have now obtained confirmation from other providers of basic bank accounts that they have no plans to restrict access to cash machines for these customers. That is a step forward," said Andrew Tyrie, who chairs the committee.
"However, the letters that I received make clear that this might change. That RBS and Lloyds should want to cut their costs is understandable. But the cash machine network is a cost shared by all banks; if one bank decides to withdraw from the system, it is more likely that others would be forced to follow suit."