King off-the-road: Are large 4x4s being overtaken by humble estate cars?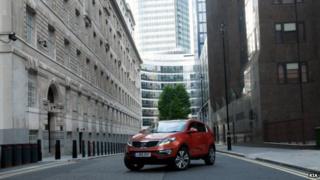 There was a backlash against large 4x4 vehicles a few years ago and the automotive industry responded quickly.
At the tail end of the global economic boom, when concerns about the environment were widely voiced, large "gas-guzzling" sports utility vehicles (SUVs) became objects of loathing and ridicule.
Next came an economic downturn, which combined with rising fuel prices to speed up the desertion from the large 4x4 segment by anyone concerned about big fuel bills.
Carmakers quickly refocused their manufacturing efforts towards so-called crossover vehicles or compact sports utility vehicles (SUVs) which combine the looks and high-riding positions of full-size SUVs with the better handling, the lower carbon dioxide emissions and the improved fuel economy of ordinary cars.
Soon the manufacturers went one step further, having realised that many drivers would never go off-road anyway. Many crossover models - such as Nissan's Qashqai, Kia's Sportage, or even Range Rover's Evoque - were offered as two-wheel-drive versions, rather than simply with more expensive 4x4 capabilities. The Qashqai is described as "the king of the urban jungle" in the carmaker's marketing material.
The smaller the better
Crossover vehicles that look as if they would be great off-road, even though some of them actually lack the basic capabilities to do so, have been dubbed "faux-by-fours" by sneering off-road enthusiasts.
In spite of this, they have become enormously popular.
Carmakers love them, of course, as they are generally able to charge a premium more for the illusion of capability. The popularity of crossover vehicles have proved so profitable that the latest push by carmakers has been towards even smaller crossovers, such as BMW's X1, Opel/Vauxhall's's Mokka or the Mini Countryman. Rival firms are preparing to launch several so-called sub-compact SUVs at the Detroit motor show in January.
Car buyers love them too. Crossovers currently make up one of the fastest growing market segment in the motor industry, and it seems the smaller they are, the more popular they become.
"Carmakers constantly seek to find yet another gap where traditional concepts can be combined with SUV characteristics to open up new niche markets," observes Gunnar Gaedge, senior consultant market analysis with PolkView's planning and forecasting division.
Hidden capabilities
In sharp contrast to cars that critics say sometimes offer "style over substance", there is a peculiar breed of cars that has survived the backlash against off-roaders.
These cars disguise their sophisticated off-road capabilities by trying to look like ordinary estate cars.
And they are still being made, even though demand for them has been consistently weak for many years and in spite of the fact that they generally do little to bolster the bottom line for the companies that make them.
We are not talking about the market for conventional all-wheel-drive (AWD) cars, which are reasonably common. Carmakers such as BMW, Mercedes and Jaguar have long been selling them, especially in the US and in some European countries where snow and ice regularly pose challenges.
Instead, we are talking about cars that appeal to those who want to be able to head for the bracken or the hills, while at the same time feeling too self-conscious to simply buy themselves a rugged 4x4.
Built for drivers who feel that conventional AWD cars merely offer the equivalent of a raincoat or an umbrella when all-out tweed or wax coats are required, these cars are generally very able indeed, though their exterior does not shout about it.
Discretely capable
At the more pragmatic end of this "discreet 4x4" segment, Subaru's Outback and Forester models rule the roost.
Both models "drive like estate cars, but with the off-road capabilities of full-size 4x4s", the carmaker insists, pointing out that "not everybody wants the weight penalties or costly inconvenience of a full-size 4x4".
Audi's A6 and A4 Allroad models do much the same, except the packaging is far more upmarket, with their sleeker chrome-laden bodies and gadget-crammed, luxurious interiors - though for the uninitiated, they look remarkably similar to the marque's conventional estate cars.
Volvo's XC70 is another player in this exclusive little niche. Like Audi's Allroad models, it looks slightly more rugged than conventional V70 estates, with protruding wheel arches and other minor differences having been carefully designed to send discreet signals to the initiated, whilst passing unnoticed by the rest.
Yet another player is Volkswagen, with its Passat Alltrack offroad capable estate car.
'Privileged lives'
Though not particularly big sellers in any market, these cars are relatively common in some parts of the world.
Ski resorts and other mountain destinations attracting outdoor enthusiasts tend to have more than their fair share of them, whether in the Alps, in Scandinavia or in US states such as Colorado, Utah or California.
In the UK, they are popular among Londoners with second homes in the Cotswolds, say, or among the country set whose rutted drives lead to rambling and often remote farmhouses - or even castles. Prince Charles has long been a fan of Audi's A6 Allroad.
As such, the cars have a thing or two in common, according to Audi UK's communications director Jon Zammett.
"These cars are bought by people who lead - or who want to be seen to lead - very privileged lives," he says.
Tables have turned
And so a peculiar situation has emerged, where it seems the tables have been turned.
The number of of small, tall compact or sub-compact SUVs on the market is growing, and in this market segment there is very little focus on off-road capabilities.
Large SUVs are also making a comeback, especially in the high-end premium segment. The latest Range Rover is more luxurious than ever, Chrysler's Grand Cherokee is gunning for the premium market, BMW has come up with a large coupe-shaped SUV - the X6, and Lamborghini, Bentley and Aston Martin are all considering large, luxurious SUV models of their own.
But again, these vehicles are increasingly shaped like crossovers, and albeit often capable off-road they are generally designed to be used on the road.
Farmers and builders are obviously still heading off-road in their rugged pick-up trucks the way they have been doing for decades.
Only, these days - with SUVs marketed as kings of the urban jungle while estate cars are sold as kings off-the-road - they might be more likely to meet an off-road capable estate car than an urban warrior SUV.