UK manufacturing 'continues to contract'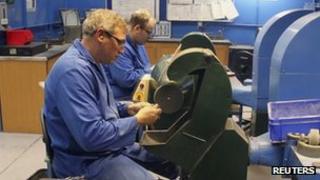 The UK's manufacturing sector shrank in October for the sixth month in a row as new orders fell and costs rose at a faster pace, a survey has indicated.
The Markit/Cips purchasing managers' index (PMI) fell to 47.5 last month from a revised 48.1 in September.
Any figure below 50 indicates contraction.
The UK economy returned to growth in the third quarter but the survey will add to fears about the underlying health of the recovery.
New exports fell in October at the second fastest pace in just over a year, Markit said, mainly due to the continuing economic weakness in mainland Europe but also thanks to lower demand from clients in Asia.
Markit said it was worrying that the global slowdown was hurting trade outside the eurozone, but added there were some "pockets of positivity", with the consumer goods sector bouncing back robustly in October.
UBS economist Amit Kara pointed out that even though the manufacturing sector reflected a fairly fragile global picture, the main sector that has been driving growth in the UK has been services.
"Let's wait for the [services] number in a couple of days and make a judgement then," he said.
"It is probably too premature to make judgement on the full economy based on an export-orientated manufacturing sector."