BT cuts revenue outlook for full year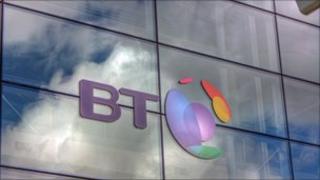 BT has cut its revenue outlook for the year after European corporate customers slashed spending.
However, cost-cutting has enabled the group to maintain its full-year forecasts for earnings.
BT also reported that its pre-tax profit rose 9% in the three months to 30 September to £602m, sending shares up 5%.
The group added 81,000 retail broadband customers, nearly half of net additions across the whole market.
"We now expect [high-speed fibre broadband] to be available to two-thirds of UK premises during spring 2014, more than 18 months ahead of our original schedule, and we are recruiting more than 1,000 engineers in 2012 to help deliver this," said BT chief executive Ian Livingston.
More than 12 million homes have access to BT's fibre broadband and more than 950,000 now connected, it said.
But its second quarter revenues fell 2% to £4.4bn, the telecoms giant said.
BT said it had taken a one-off charges of £85m against revenue relating to the 2011 and 2012 financial years following the so-called ladder pricing ruling that banned BT from charging mobile operators for calls to non-geographic numbers.
The firm's television service BT Vision - which will soon have the rights to live football matches - increased its base by 21,000 to more than 750,000 subscribers.
In June, it was announced that BT had secured the rights to broadcast live Premier League football matches for the first time, securing the rights to 38 matches a season from 2013-14, and it will also have exclusive live broadcast rights to Aviva Premiership Rugby Union matches in a four-year deal from 2013.