Barclays faces $470m energy fine from US regulators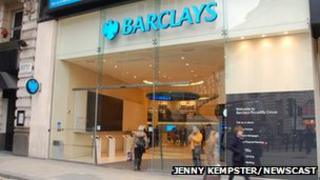 Barclays has been threatened with fines of $470m (£291m) by US regulators to settle accusations it sought to manipulate the California energy markets from 2006-2008.
The Federal Energy Regulatory Commission has been investigating it, the bank revealed on Wednesday.
Barclays denies the charges. The fine is larger than the one it paid over the Libor rate-rigging scandal.
The bank is also the subject of other regulatory inquiries.
Barclays now has 30 days to contest the fine.
Manipulating prices
The proposed fine is over communications by four traders on Barclays' West Coast power desk.
The team of four traders - veterans of power firm Mirant, which was fined hundreds of millions of dollars after the California power scandal a decade ago - was said by Ferc to have exchanged messages explaining how they would use certain trades in one market to profit in another.
The traders are alleged to have manipulated power prices to make money with their financial swap positions, causing losses for rival power traders of $139m and winning the bank $34.9m.
"We believe that our trading was legitimate and in compliance with applicable law," Barclays spokesman Mark Lane said. "We have co-operated fully with the Ferc investigation, which relates to trading activity that occurred several years ago. We intend to vigorously defend this matter."
Ferc notified Barclays that it had begun the investigation of Barclays' Western US power trading on 3 July 2007 - but the bank only informed shareholders on Wednesday.
US authorities are also looking at whether the way that Barclays won business complied with the Foreign Corrupt Practices Act, the other new investigation in a series of scandals that have dented the bank's reputation.
In June, Barclays was fined £290m by UK and US regulators for attempting to manipulate Libor, an interbank lending rate which affects mortgages and loans.
And in August, the Serious Fraud Office started an investigation into payments between Barclays' bank and Qatar Holding in 2008, when the bank was raising money in the Middle East during the banking crisis.
The entire financial services industry has come under scrutiny since the financial crisis in 2008.
The industry's reputation has been battered further by the mis-selling of payment protection insurance (PPI) and of specialist insurance - called interest rate swaps - to small businesses.