Royal Dutch Shell and Exxon Mobil see profits fall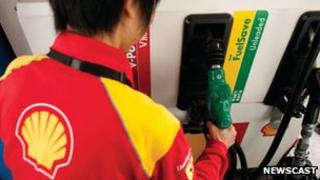 Royal Dutch Shell has reported profits of $6.12bn (£4.5bn) for the past three months, down from $7.2bn for the same quarter last year.
The Anglo-Dutch company blamed the fall on lower oil and gas prices.
Shell chief executive Peter Voser said the figures showed "progress in a difficult industry environment".
US oil giant Exxon Mobil also reported a 7% fall in net profit to $9.57bn in the third quarter after a big drop in exploration and production earnings.
Revenue fell 8% to $115.71bn, though the results were better than expected.
Exxon's oil refining business saw higher margins but this was offset by a 7.5% drop in oil and gas production.
Exxon Mobil is the world's largest publicly quoted oil company, followed by Shell.
Lower demand
Excluding one-off items such as tax changes and other factors, Shell's third-quarter profits were $6.6bn, down 6% on last year.
Sales fell 8.9% to $112bn, reflecting the global economic slowdown and reduced demand for oil.
Shell said that it saw stronger margins in its oil refining division, but these were outweighed by lower crude prices during the quarter.
In a statement, Mr Voser said: "Our earnings were driven by lower oil and gas prices, and lower chemicals margins, which offset the benefits of our operating performance, underlying growth in oil and gas production, and higher results in integrated gas and oil products."
Total production fell by 1% to 2.982 million barrels of oil equivalent a day in the third quarter. But stripping out the impact of asset sales, security problems in Nigeria and other one-off factors, underlying production was 1% higher.
Shell has raised its quarterly dividend by 2.4% from last year.
Investec analyst Stuart Joyner said: "Shell is continuing to generate substantial cash flows and we expect the priority to be re-investment, but the company could afford a more generous dividend if it chose to."
Shares in Shell were slightly higher in afternoon trading.
On Tuesday, BP reported a fall in third-quarter profits to $4.69bn, but its shares rose 5% on the day, following news that its dividend would increase by 12.5%.