Sharp issues survival warning as it forecasts huge loss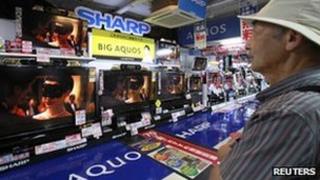 Japan's Sharp has issued a warning about its future saying that it has found it tough to raise money amid mounting losses.
It issued the warning as it forecast a loss of 450bn yen (5.6bn; £3.5bn) for the year to 31 March 2013.
Sharp, which has struggled amid falling sales and a rising yen, has had its credit rating cut to "junk" status.
It said it was looking to restructure its business in an attempt to return to profitability.
When a firm's bonds are rated as "junk" it means some institutions may no longer invest in them, making it harder for them to raise fresh capital.
"Sharp is in circumstances in which material doubt about its assumed going concern is found," the company said in a statement.
Analysts said that given its troubles, Sharp may find it tough to survive in the long run.
"Perhaps it will not fail within this year, but I don't think Sharp has a viable business in the next three to five years," said Tetsuro Ii, chief executive of Commons Asset Management in Tokyo.
"The company hasn't got much time left and they need to cut off businesses that they can, conserve cash and... produce something that's really competitive."
Growing troubles
Sharp's troubles are not isolated. Most of the big Japanese electronics giants have seen their fortunes tumble in recent times.
Also on Thursday, Sony reported a loss of 15.4bn yen for the July to September quarter.
On Wednesday, Panasonic said that it now expected to make a loss of 765bn yen in the current financial year. It had previously forecast a profit of 50bn yen.
Japanese electronics makers have been hurt by a slowing demand and falling prices of TVs in key markets.
At the same time, rising competition from low-cost manufacturers coupled with a strong yen - which makes Japanese goods more expensive - has also hit their competitiveness.
Faced with these challenges, Sharp, Sony and Panasonic have all announced plans to restructure their business in an attempt to cut costs and improve profitability.
However, analysts said that while these attempts were a step in the right direction, it was unclear how the firms will drive future profit growth, not least because demand for their key products continued to remain subdued.