Nomura gets Tokyo Stock Exchanges' biggest trading fine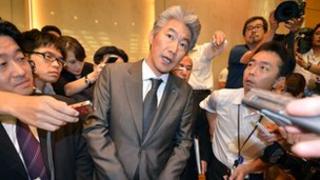 Japan's biggest brokerage, Nomura Holdings, has been fined 200m yen ($2.5m; £1.5m) by the Tokyo Stock Exchange for insider trading.
The fine is the largest meted out by the exchange.
Nomura has admitted that its staff leaked information about share sales to clients before it was made public.
The brokerage had previously been told to bolster internal controls by the Financial Services Agency.
Earlier this month, the Japan Securities Dealers Association fined Nomura 300m yen.
Nomura released a report in June that said the firm had "serious systemic defects that would erode confidence".
The company admitted its sales staff had tipped off clients and said the information was being shared between Nomura's investment banking arm and its sales teams, a practice that is not allowed in most financial institutions.
Chief Executive Kenichi Watanabe stepped down earlier this year after taking responsibility for the scandal.