China manufacturing activity at three-month high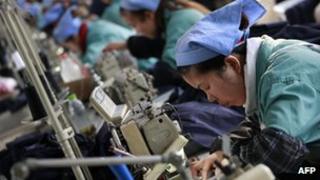 Manufacturing activity in China expanded for the first time in three months, a sign that the country could be recovering from its slowest pace of growth in three years.
The Purchasing Managers' Index (PMI) rose to 50.2 in October from 49.8 in September, government data showed.
China's economy has been suffering as demand for its exports dropped in key markets.
The positive number comes a week before the once-in-a-decade leadership change.
A reading above 50 indicates an expansion in activity, while a score below that mark signals a contraction.
Pick up
China's economy expanded 7.4% in the July to September period, its slowest pace in three years. Amid that broader slump, manufacturing activity contracted in August and September.
Policymakers have been taking steps to boost economic growth by way of infrastructure spending and monetary easing.
Analysts said those moves were starting to affect the economy positively.
"The return of the PMI to above 50 suggests economic momentum has indeed picked up," said Zhiwei Zhang of Nomura in an email.
"It indicates the effect of policy easing may have been stronger than the consensus expected."
Other official data pointing to a recovery includes an acceleration in exports, retail sales and industrial production.
Stability
A separate, private survey of manufacturing in China by HSBC also showed an improvement, although the reading remained in negative territory.
The HSBC purchasing managers' index showed a final reading of 49.5 in October, an increase from 47.9 in September.
"October's final PMI rose to an eight-month high, implying that China's industrial activity continues to bottom out following a modest pick-up last month," Qu Hongbin, chief China economist at HSBC, said in a statement.
How they handle the slowdown has been a political balancing act for China's leaders as they embark on a leadership change.
Strong growth has long been a point of pride for the current leaders, and analysts pointed out they would be eager to get the economy back on track before the handover.