South Korean exports rise after four months of decline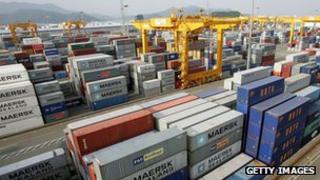 South Korean exports have risen for the first time in four months, raising hope that the economy could be starting to recover.
Overseas shipments rose 1.2% in October from a year earlier, the Ministry of Knowledge Economy said.
Exports declined a revised 2% in September.
South Korea, an export-led economy, has seen global demand for its cars, electronics and ships slump in recent months.
Analysts, however, were cautious that the numbers heralded a recovery while the global economy was still struggling.
"Until the US overcomes the risk of a possible fiscal cliff [higher taxes coupled with spending cuts] and China decides to partake in more easing policy, trade will tread water," said Park Hyung-jung from Meritz Securities.
China is South Korea's largest export market, but slowing growth there has been dampening demand.
In October shipments to China rose 5.7% from a year earlier, while shipments to the European Union rose 2%, data showed.
Exports to the US declined by 3.5%.