Manganese Bronze makes 156 redundancies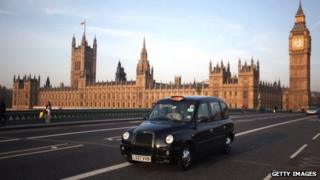 The administrators of Manganese Bronze, the Coventry-based company that makes London black cabs, are making 156 staff redundant with immediate effect.
The announcement from PricewaterhouseCoopers (PwC) comes just a day after it said it was in talks with an "encouraging" list of parties interested in the company's rescue.
The redundancies account for more than half of the firm's 274 UK employees.
The Unite union said it was outraged at the "ruthless sacking" of staff.
The job losses affect both the group's head office and manufacturing site in Coventry, with 99 out of 176 employees there being made redundant.
The remaining job losses come at dealerships in London, Manchester, Leeds, Edinburgh, Glasgow and Coventry, with 57 out of 98 employees facing redundancy.
Some workers are staging a sit-in at the Holyhead Road factory in Coventry, protesting against the job cuts.
Operational issues
PwC were officially appointed as administrators of the firm on Tuesday and had said they were looking at options to dispose of the business to an investor who could secure the future manufacturing of the black cab.
They said they had been appointed due to a "combination of poor UK sales, supply chain issues, and high warranty costs", compounded by accounting errors discovered in the first half of 2012 and the discovery of a steering fault that led to the recall of about 400 vehicles and a suspension of sales.
But in a statement on Wednesday, PwC said: "Regretfully, without financial support to overcome the group's operational issues we have had to make staff redundancies.
"While the steering box recall remains, there is a voluntary suspension on vehicle sales, and we are now concentrating all resources on testing the solution to the steering fault.
"We have retained sufficient numbers of staff across the dealership, head office and production network to address the operational, technical and financial circumstances that the business faces."
Unite national officer for the automotive industry, Roger Maddison, said: "Only last night PwC were telling us there were significant interested parties. Now the administrators are ruthlessly sacking over 150 highly skilled workers at the iconic black cab maker.
"The black cabs are world famous and we believe this company has a future. How can PwC treat this company as a going concern with virtually no staff?
"The black cab is part of Britain's car manufacturing heritage. The government must now be on standby to save this historic company from being left to the vultures."
There are 22,000 black taxis on the road in London, with a further 18,000 across the UK.
Prof David Bailey, from Coventry University Business School, said: "It isn't just a cyclical downturn.
"They've been losing market share to the likes of Mercedes-Benz who can take a mass-produced van, convert it to a taxi and give taxi drivers something that's probably more reliable and also a lower cost of ownership."