House prices: No market momentum, says Nationwide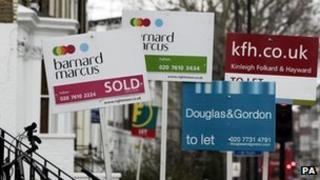 The housing market will take time to gain momentum, despite a rise in prices in October compared with the previous month, the Nationwide has said.
The building society said prices rose 0.6% last month, more than offsetting the 0.4% drop in September.
However, property values were still 0.9% down on the same month in 2011.
It also said it expected the property market to remain subdued until the economic climate - including wages and employment levels - improved in the UK.
The average home was valued at £164,153 in October, the Nationwide said.
It said that monthly price changes had not settled into a strong trend, with three months of price rises and three months of price falls since May.
The figures are the first to assess the state of the UK housing market in October, but various other surveys have suggested that the market has been relatively static all year.
"Wage growth is still not keeping up with the cost of living and unemployment is still well above normal levels," said Robert Gardner, Nationwide's chief economist.
"This helps to explain why housing market activity has remained subdued, with the number of mortgage approvals still running at little more than half their long-run average."
The interactive content on this page requires JavaScript