General Motors plans further cost cuts in Europe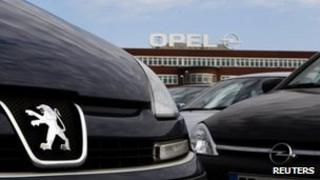 US carmaker General Motors plans to cut costs by a further $500m (£310m) at its troubled European unit by 2015 and expects 2,600 job losses this year.
The unit, which includes its Opel and Vauxhall marques, is expected to lose $1.5bn-1.8bn this year.
The news came as GM unveiled surprisingly strong quarterly profits.
The firm made $1.85bn overall in the three months to September, down from $2.09bn a year earlier, but still 50% higher than markets had been expecting.
Of the 2,600 European job losses, GM said that 2,300 had already been achieved via the retirement or negotiated departure of employees.
It said it expected to achieve $300m in savings in its European unit this year, with a further $500m to come over the next three years.
GM said that it aimed to break even in Europe by the middle of this decade, although it expects sales to fall 4%-5% next year.
However, its forecast losses for 2012 are double what it lost in the region last year.
Its Germany-based Opel business has lost some $16bn over the last 12 years.
GM said in an investor presentation accompanying its results that it planned to cut one of its three shifts at its Eisenach factory in 2013, it would not allocate any new production to its Bochum plant.
It also said it was reviewing the future of its production in Strasbourg, while production of its Astra model would be consolidated into two factories from the current three.
Shares rebound
Europe was the only one of GM's five units not to turn a profit in the last three months, after its South American business swang into the black, making $114m profit versus a $44m loss a year ago.
Sales in most other markets, excluding the US, performed strongly, with South Korea and Australia doing particularly well, the company said.
Markets took the news well, with GM's shares rebounding 7% in early trading in New York, following the two-day closure of the stock exchange due to the storm Sandy.
GM is not the only carmaker to struggle in Europe. Last week, Ford said it was closing three factories in the region.