Manganese Bronze administrators see 'encouraging' future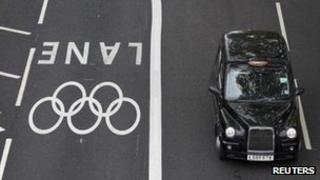 Administrators at the maker of London black cabs, Manganese Bronze, say they are talking to an "encouraging" list of parties interested in its rescue.
The Coventry-based business has had to call in PricewaterhouseCoopers after failing to gain new funding.
The move followed a fault with the vehicle's steering box which led to the recall of over 400 cabs and the suspension of sales.
The company has been losing money for the past four years.
PricewaterhouseCoopers said in a statement this was due to a "combination of poor UK sales, supply chain issues, and high warranty costs".
These were compounded when the accounting errors were discovered in the first half of 2012.
Manganese Bronze had been trying to secure a loan from Chinese shareholder Geely with which it has a joint venture in China.
In London alone there are 22,000 black taxis on the road, with a further 18,000 across the UK.
Matthew Hammond, joint administrator for PricewaterhouseCoopers said there had been an unsually high level of interest that had come from all around the world, the UK, Europe and further afield.
"Our immediate priority is to secure funding in order to explore the options rapidly developed by the management team and key suppliers to resolve the steering box recall."
He said they were looking at options to dispose of the business to an investor who could secure the future manufacture of the black cab.
The administrators said they had had "immediately commenced discussions with an encouraging list of UK and international interested parties" and encouraged any further interested parties to get in touch "as a matter of urgency".
Falling profits
Manganese Bronze employs 277 people, most of them in Coventry.
Earlier this month it stopped sales of its new TX4 model after it discovered a problem affecting the vehicles' power steering, sourced from an unnamed new supplier since February.
The company said it had not put anyone in danger but "in extreme cases, it could affect the ability to steer the steering wheel".
Manganese and Geely signed a joint venture agreement in 2006 and own a factory in Shanghai that produces taxis for the international market.
Sales have been in decline - the Coventry-based firm sold 1,502 taxis in the UK last year, compared with 1,653 in 2010, a fall of 9.1%.
In January, Manganese Bronze had to issue a profit warning, saying that it had made no profit in 2011 and could fall short of expectations this year.
The group blamed the weak UK economy, uncertainty over the global economic outlook and a delay in fulfilling an order for 1,000 taxis from Azerbaijan.
For the first six months of 2012, Manganese Bronze recorded an operating loss of £3.1m on revenues of £34.3m.
Then in August, it discovered an accounting error had caused it to understate past losses by a total £4.25m.