Shoppers facing 'new economic reality' change behaviour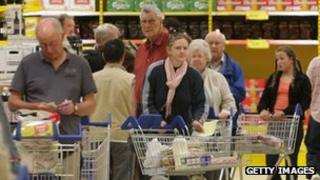 UK consumers are feeling worse about the economy than they did last month, despite the end of recession, the latest consumer confidence survey from financial research firm GfK says.
Retailers say this is causing a change in shoppers' spending habits.
Last week, the boss of Debenhams said: "We believe customers are acclimatised to the new economic reality."
The boss of Tesco told BBC News his customers were, "resigned that this is the new norm".
"They don't have great expectations that things are going to improve in the short term," he said.
In 2008 and 2009, retailers say, people were spending like they were expecting a recovery, believing that if they kept their jobs their wages would rise with inflation.
Four years on, rising fuel prices and sub-inflation pay rises are hitting their spending power, and they cannot see where an improvement is going to come from.
While there was more growth than had been expected in the UK economy in the three months to the end of September, many analysts are predicting another contraction in the final quarter of the year.
'No going back'
"There is a new mindset among consumers," said Patrick O'Brien from the retail analysts Verdict Research.
"Even a year or two ago it was possible things would return to how they were before the credit bubble burst in 2008, but now it is clear there is no going back."
Consumers are responding by going to greater lengths to save money.
In a blog posting, Tesco chief executive Philip Clarke said that more than half of visits to the company's website were by people checking prices.
Tesco responded with aggressive use of more personalised vouchers and then with offers such as saving £5 if you spend £40 to discourage consumers from splitting their shopping across different stores.
Patrick O'Brien said there had been permanent changes to retail. "The shops that have closed in the past few years are never coming back," he said.
"There has been a structural change, with companies developing click and collect and multi-channel offerings rather than investing in their stores."
In addition, the strong results from discount supermarkets and premium supermarkets suggests that people are trading down in search of value, while they are still prepared to go to luxury outlets for a treat.
Mr Clarke said the change in shoppers went beyond people being constrained by their finances.
"It's a psychological and social phenomenon as well as an economic one," he said. "It is about the satisfaction of finding value."
The latest GfK index of consumer confidence fell to -30 in October, the lowest for six months, from -28 in September. The lower the number, the worse people say they feel.
Respondents were gloomier about the prospects for their own financial situation in the next 12 months and the prospects for the economy as a whole and said they were less likely to be making major purchases in the coming year.
"This certainly doesn't suggest there will be a spending boom on the back of the official emergence from recession," said Nick Moon from GfK.