Greece agrees deal with creditors on austerity plan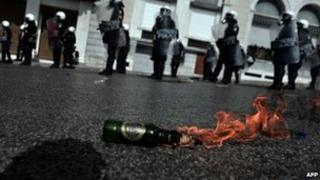 Greece has reached agreement with its international creditors on new austerity measures necessary to release fresh bailout funds.
Parliament was due to vote on the package, plus a budget, on Tuesday, but this has been delayed a week.
Prime Minister Antonis Samaras said: "If this deal is approved and the budget is voted, Greece will stay in the euro and exit the crisis."
But a coalition party, the Democratic Left, has refused to back the measures.
The party said in a statement on Tuesday: "The Democratic Left has fought on the issue of labour relations, to protect workers' rights which have been already weakened.
"It does not agree with the result of the negotiations. The Democratic Left sticks to its position."
Finance Minister Yannis Stournaras denied local media reports that the deal could be broken up to ease the Democratic Left's objections.
"All of the [draft legislation] will be submitted next week. I think there is no other way to do it," he said.
If passed, Greece will impose 13.5bn euros ($17.4bn; £10.8bn) of cuts.
More time
Details of the budget cuts remain sketchy, but Mr Samaras is seeking broader powers to privatise public services.
However, given the dissent among members of the three-party coalition government, the delay in voting on the package will give Mr Samaras more time to reach a consensus.
He has warned that Greece will run out of cash next month unless it receives 31.2bn euros in loans from the EU-IMF bailout fund.
The prime minister said in a statement on Tuesday that he had "exhausted all the available time" to try and reach a consensus in parliament.
"The problem is not whether we [introduce] this measure or that measure," he said. "On the contrary, it is what we would do if no agreement is reached and the country is led into chaos."
Eurozone finance ministers are due to hold a conference call on Greece on Wednesday, ahead of a meeting on 12 November that is expected to focus on the country's latest crisis.