Ford profits flat after losses in Europe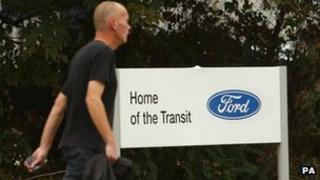 Carmaker Ford has reported a slight dip in profits for the third quarter after losses in Europe offset record profits in the US.
Net income fell 1% to $1.63bn (£1.01bn, 1.26bn euros).
The company said it earned a record $2.3bn in the US, partly thanks to an increase in selling prices.
Fiat's third quarter results were also released on Tuesday and told a similar tale of strong US sales and losses in Europe.
Ford said European car sales across the industry were the lowest in 20 years.
Ford last week announced it would close two plants in the UK and one in Belgium following a sharp fall in sales in the region.
Italy's Fiat more than doubled its third quarter profits, helped by strong North American sales figures at its Chrysler unit.
Net profit for the quarter to the end of September was 286m euros ($369m), up from 112m in the same period a year ago.
The Italian car giant said the European market would not recover until 2014.
Fiat has warned in the past it may have to shut one its five Italian plants and that sales in its home country - one of the worst affected by the eurozone's economic crisis - were down to levels seen 40 years ago.
European woes
Ford said it believed the problems in Europe, where personal debt and government austerity is biting into consumers' income, was "structural, rather than cyclical".
It said the changes it announced last week to its European operations were designed to return it to profits in the region by mid-decade, with an operating profit margin of 6-8%.
That compares with a margin of 12% in North America.
Elsewhere in the world Ford's performance was positive, with record market shares recorded in Africa and Asia. Fiat, too, did well in the faster-growing emerging markets.
Alan Mulally, Ford president and chief executive said: "While we are facing near-term challenges in Europe, we are fully committed to transforming our business in Europe by moving decisively to match production to demand, improve revenue through new products and a stronger brand, improve our cost efficiencies and take advantage of opportunities to profitably grow our business."