Hitachi's nuclear deal still faces hurdles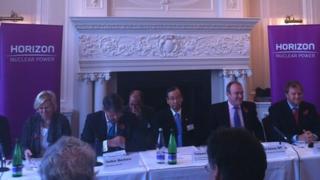 Hitachi's £700m ($1.1bn) acquisition of Horizon Nuclear Power from energy companies RWE Npower and E.On is a big deal.
And not only in terms of the amount the Japanese company has agreed to pay.
Prime Minister David Cameron describes it as a "a decades-long, multi-billion pound vote of confidence in the UK".
Energy and Climate Change Secretary Edward Davey hails its importance to the energy sector, which he says will "play a big role in the growth of the UK economy".
The deal is big because:
it offers the promise of inward investment into the UK, somewhere in the region of £20bn,
it could result in the creation of thousands of skilled jobs in the UK with vast sums invested in the training and education of nuclear workers,
and it offers a potential solution to an energy supply challenge in the UK, where shortages loom within years, by building nuclear plants that would eventually power some 14 million homes.
'Start of a journey'
The acquisition's importance was reflected by the number of high calibre politicians and industry executives flanking Tatsuro Ishizuka, chief executive of Hitachi's power systems company, at a hastily arranged press conference in the wake of the announcement.
Or to be precise, their presence gave an indication of the deal's ultimate potential.
For although hopes are high, so are the hurdles ahead.
"Today is the start of a journey," Mr Ishizuka said, acknowledging that Hitachi has not yet fully committed to invest anything at all, beyond the announced acquisition price.
Indeed, as yet:
Hitachi has not worked out exactly how much it would cost to build six new nuclear power plants in the UK,
a government-guaranteed "strike price", or minimum price for nuclear generated power, has not yet been hammered out,
it is not clear when the plants would be completed, nor who would operate them,
the boiling water nuclear reactor system that Hitachi is keen to install has yet to be granted UK safety approval.
Energy gap
Many of the questions posed by Hitachi and other's investment in the nuclear industry should be answered in the government's Energy Bill when it is published next month
The Bill, which will set out how the UK's electricity market is to be reformed, will "ensure energy security by providing investors like Hitachi with the certainty they need, and to get the best deal for the consumer", according to Energy Minister John Hayes.
But industry observers are nevertheless worried about the time it might take to complete all the dealmaking and the rubber stamping required to get the new-build programme rolling.
"If you are looking at a three-to-four year turnaround in the approvals process, that will inevitably fuel concerns over the UK's supply-demand balance in the latter part of this decade," observes Craig Lowrey, consultant at UX Energy Services, referring to a widely predicted "energy gap" set to emerge as existing power plants are closed before replacements are up and running.
The shut-down of the UK's power station capacity extends beyond nuclear power. Coal fired plants are amongst those currently closing as the UK sets out to comply with the European Union's large combustion plant directive. By 2016, more than a third of the UK's power generation capacity is scheduled to have been switched off, with more to come in the years ahead.
Meanwhile, the planned new nuclear power plants would not start producing electricity until the early 2020s, according to the government's estimate, or by the middle of the decade according to Hitachi.
By then, all but one of the UK's existing nuclear power plants are scheduled to have shut down, points out Omar Abbosh of managing consultants Accenture.
"Which means up to 18% of current energy supply will disappear," he says.
Skills shortage
Replacing the UK's energy production capacity will require a lot more than the sums Hitachi might invest.
At least £120bn and perhaps as much as £170bn must be invested by 2020 in low carbon energy sources, including nuclear power and renewable energy, according to business body CBI.
With the prospect of such levels of investments flowing into the UK's energy sector, it seems clear that the nuclear industry will have to compete with the oil and gas industry, with the wind power sector and with renewable fuels companies, not just to attract electricity customers, but also to attract skilled staff such as engineers and scientists.
"Most people in the nuclear industry are in the autumn of their careers," observes Kevin Thomas, chief executive of engineering firm Babcock's support services, which will be working with Hitachi.
"This project is going to have an unquenchable appetite for people with relevant skills. There will be a skills shortage going forward."
Industrial strategy
With no funding committed and enormous challenges ahead, there may well be plenty of reasons to remain sceptical about the nuclear industry's future.
In addition to practical problems such as red tape or investment risk, the anti-nuclear voice has grown much stronger since the Fukushima-disaster in Japan raised fresh fears about the industry's ability to operate safely, and these concerns were raised further by the flooding of a nuclear power plant in the US on Monday.
"This is a risky and expensive gamble for Hitachi that other energy firms are unwilling to take," says Friends of the Earth's Guy Shrubsole. "Last night's nuclear safety alert in the face of hurricane Sandy was a stark reminder of Fukushima and how vulnerable our energy infrastructure can be."
Mr Ishizuka acknowledges that the company is taking a risk, though given that Hitachi knows how to build advanced boiling water reactors and that it now owns the land on which to build them, he is firmly optimistic.
Moreover, he predicts that "the UK government's strong commitment to nuclear power and to energy security means the 'strike price' will be set at a fair level to secure investment in the nuclear industry".
Such investment would range from Hitachi's own "significant investment in training engineers, construction teams and operating staff" to investment by companies eager to operate the reactors the company is planning to build - reactors which Mr Ishizuka expects will soon be granted safety approval.
His optimism is shared by energy secretary Mr Davey, who insists the government's commitment to the project is absolute.
"Our commitment to nuclear remains strong," he says.
"New nuclear isn't only about keeping the lights on and emissions down. It's an industrial strategy with big potential winners."
With industry and government singing from the same song sheet, the path ahead may appear smooth.
But given that nuclear power invariably involves great risks, not just in terms of safety but in terms of politics and economics too, there are good reasons to expect further complications in the months and years ahead.